Lemon meringue pie shooters have all of the deliciousness of lemon meringue pie, but they're way easier to make! They're the ultimate sweet treat!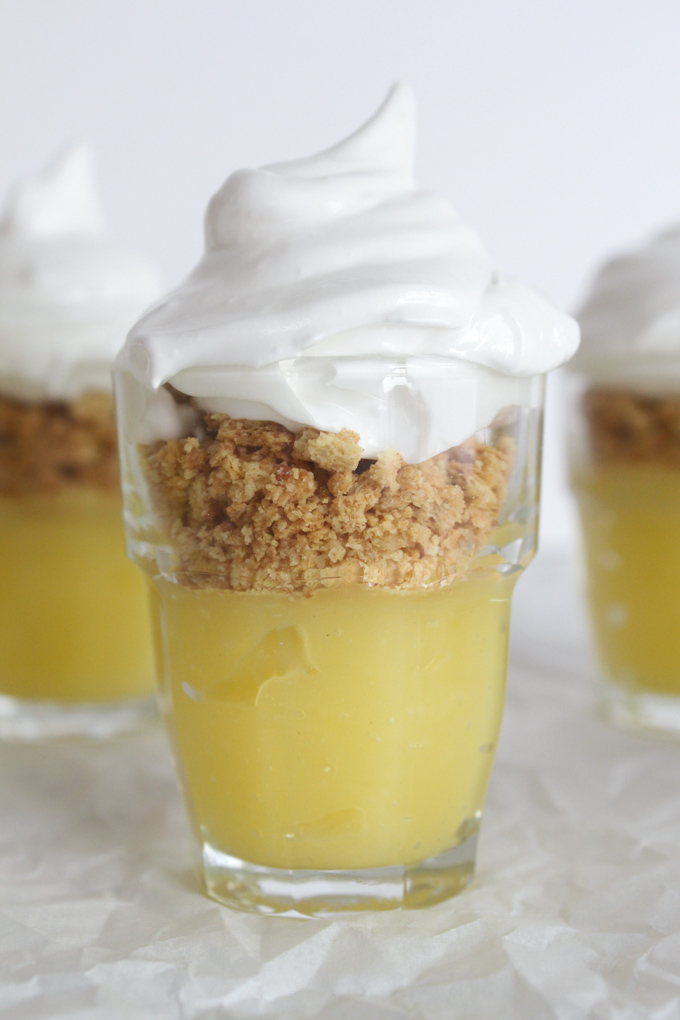 My dad LOVES lemon meringue pie, but he doesn't get to eat it very often since it's pretty time consuming to make. Last weekend I surprised dad with a special Father's Day treat – deconstructed lemon meringue pie served in shot glasses. This fun take on the classic pie packs all the same delicious flavor but is quicker to make!
Lemon Meringue Pie Shooters
INGREDIENTS:
for the lemon curd:
3/4 cup sugar
3 T cornstarch
1/8 tsp salt
1/4 cup cold water
1/4 cup fresh lemon juice
2 egg yolks (save the whites for the meringue topping)
1 T butter
3/4 cup boiling water
1/2 tsp. grated lemon peel
for the graham cracker crumble crust:
8 graham cracker squares
1 T butter
for the Italian meringue topping:
1/4 cup water
1/8 tsp. cream of tartar
1/2 cup sugar
2 egg whites
DIRECTIONS:
First, make the lemon curd. Sift sugar, cornstarch, and salt into a medium saucepan. Blend in cold water and lemon juice until mixture is smooth. In a small bowl beat egg yolks well. Add egg yolks and butter to lemon juice mixture and blend thoroughly. Stirring constantly, gradually add boiling water. Bring the mixture to a boil and stir gently. Reduce heat as the mixture begins to thicken and allow to simmer slowly for one minute. Remove from heat and stir in lemon peel. Let cool.
Next, make the graham crack crumble crust. Put graham crackers into a plastic bag and smash into small crumbs using the back of a wooden spoon. Pour the crumbs into a bowl. Melt the butter and pour over the graham cracker crumbs. Mix together with a fork so that crumbs just begin to stick together. Set aside.
Then make the meringue. Heat water, cream of tartar, and sugar in a pan and stir until dissolved. When the syrup starts to boil, cover the pan and let boil for 3 minutes. Then uncover the pan and allow to cook for another 2 minutes without stirring.
While the syrup is cooking, place egg whites in a bowl and beat well with a hand mixer. Then add the syrup slowly to the eggs while beating constantly. Continue to beat the meringue until it is cool and moderate peaks form when the beater is turned off and lifted gently out of the bowl.
To assemble the lemon meringue pie shooters, spoon lemon curd into 12 shot glasses, filling each about 2/3 full. Then layer graham cracker crumble crust on top of the lemon curd so each shot glass is nearly full. Top each shooter with meringue and serve.
Lemon curd and Italian meringue recipes adapted from Joy of Cooking.