Looking for a quick and easy breakfast recipe that you can make ahead and take with you on the go? Breakfast cookies are the answer! They're perfect for busy mornings, plus they taste amazing and will keep you full until lunch!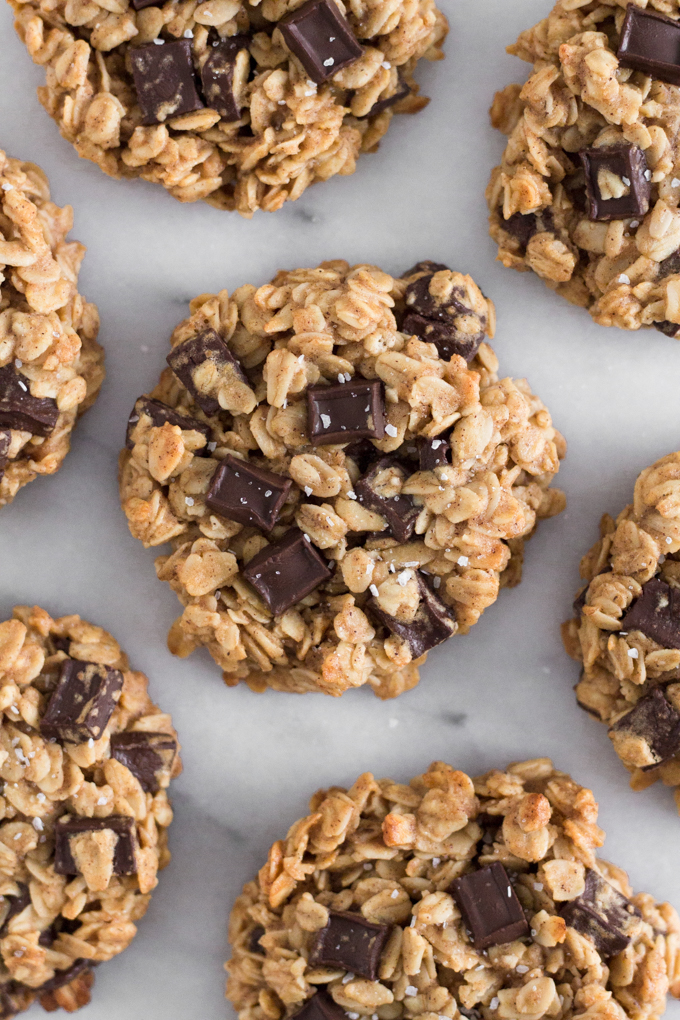 As much as I love sitting down to a hot breakfast on the weekends, during the week I put very little thought or effort into breakfast. If I'm being honest, I usually eat my breakfast standing at the kitchen counter or on my way out the door, so quick and easy is key. But I also need something that will keep me full until lunch. And, most importantly, something that tastes good!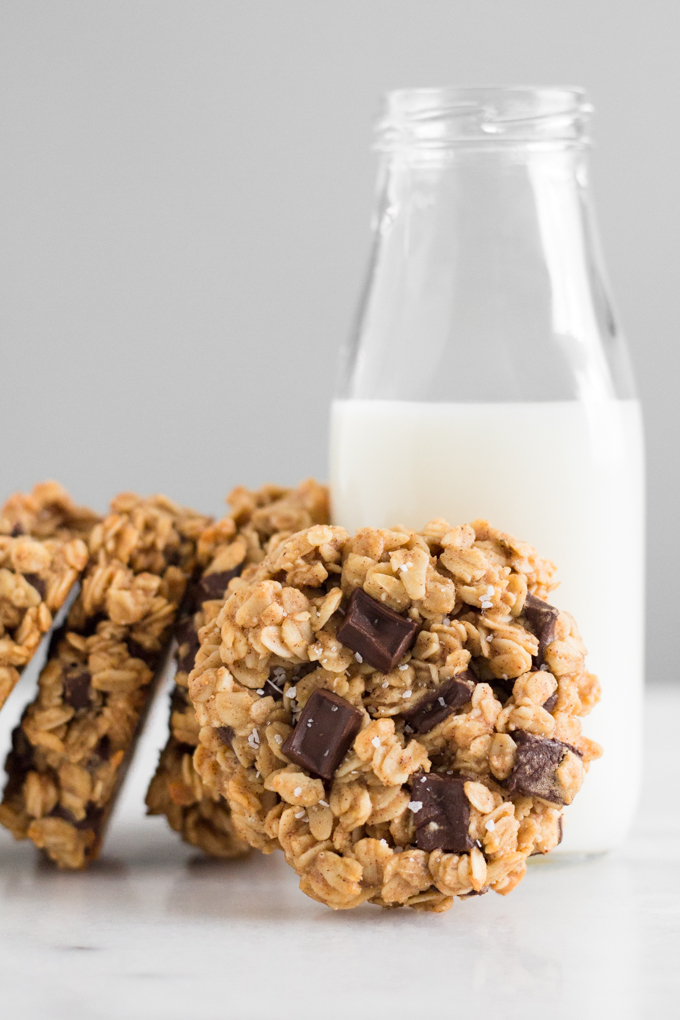 Breakfast cookies check all of the boxes!
But while you don't have to twist my arm to get me to eat cookies for breakfast, breakfast cookies have a bit of a bad rap. Most breakfast cookie recipes I've encountered are overly wet (often because they're made with mashed banana), leading to a soggy cookie. Or they're over-stuffed with different oats, seeds, and flours, leading to a cookie that's dry and crumbly.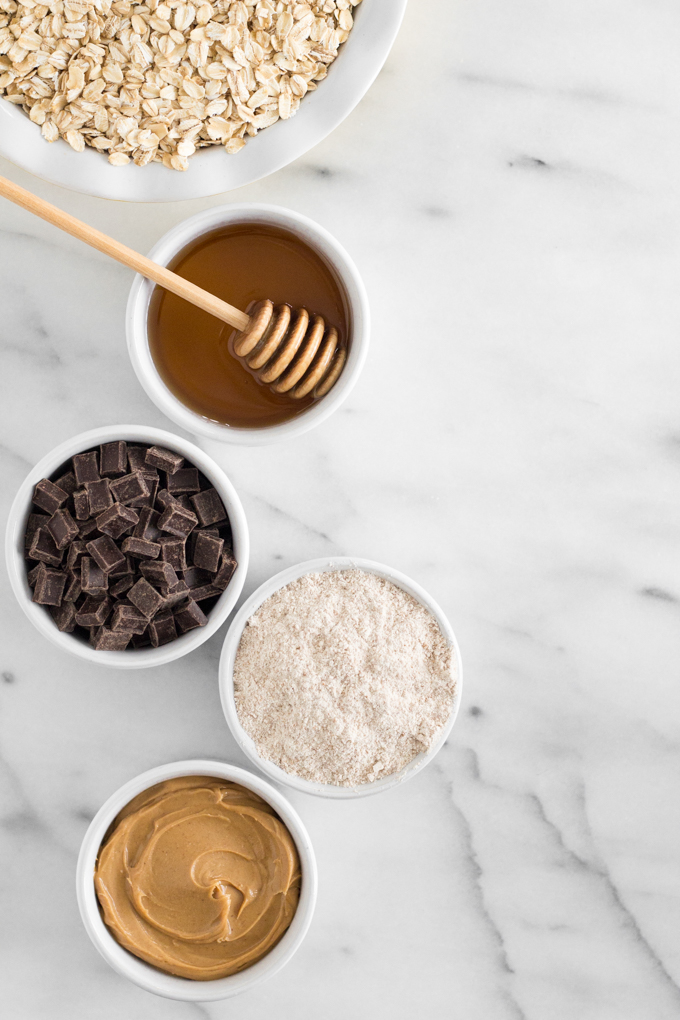 These breakfast cookies are different! Trust me when I tell you these cookies are soft and chewy, reminiscent of your favorite oatmeal raisin cookie or chocolate chip cookie.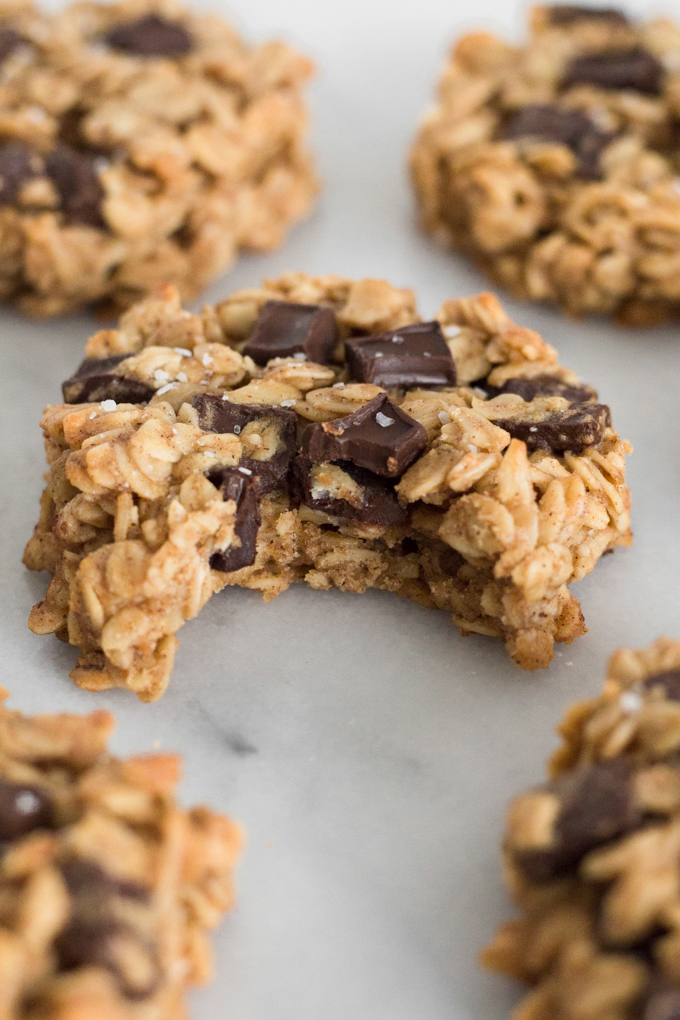 Here's what makes these oatmeal dark chocolate chunk breakfast cookies so amazing:
They're quick and easy. You can throw the cookie dough together in less than 15 minutes, and the cookies bake for just 12 minutes! And you don't need any special equipment to make the dough. (Read: less dishes to wash, yay!)
You can make them ahead of time. Whip up a batch of cookies over the weekend. It'll take you less than an hour from start to finish (so you won't have to spend your whole weekend meal-prepping), and the cookies will stay soft and fresh all week.
They're perfect for busy mornings on-the-go. Grab a cookie before you run out the door. No dishes or utensils required (though a napkin is probably a good idea!).
They're satisfying and healthy. Thanks to lots of oats and a bit of peanut butter, one or two of these cookies will keep you full until lunch. Plus they're made with whole wheat flour and sweetened with honey (rather than all-purpose flour and cane sugar, like traditional dessert cookies), which makes them appropriate for breakfast in my book!
They're delicious. These cookies have delicious flavor thanks to dark chocolate, cinnamon, honey, and peanut butter. And, because they're packed with oats and just a bit of flour, they have a perfectly soft and chewy texture. It you served these cookies to me as dessert I would not be disappointed!
Bonus: this recipe can be adapted to be peanut-free or gluten-free. See "Recipe Notes" at the bottom of the recipe.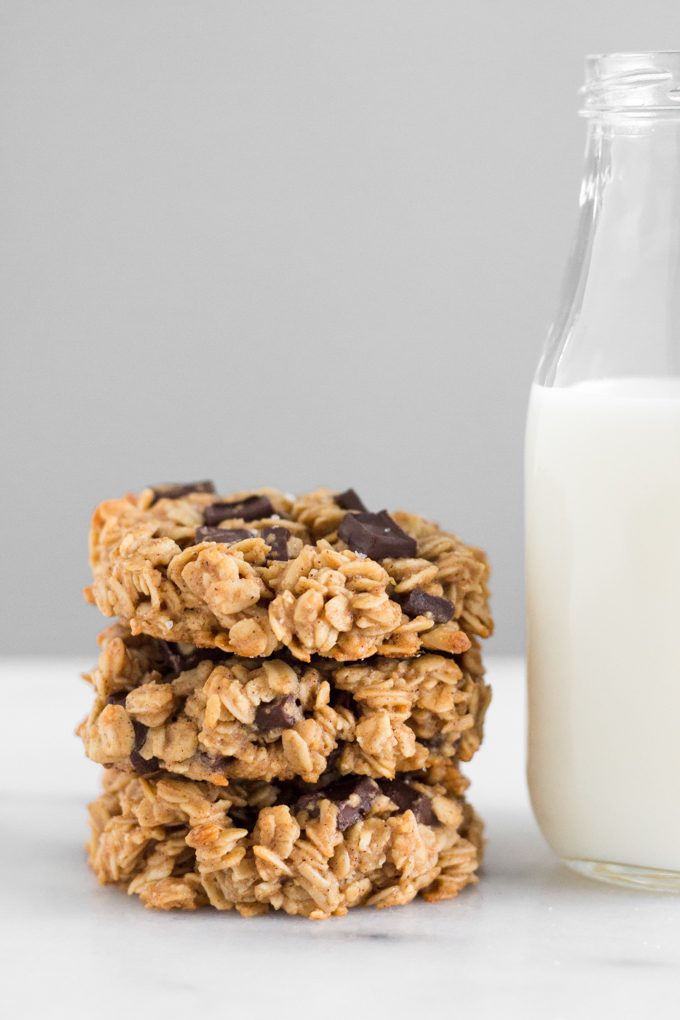 Do yourself a favor a bake a batch of these oatmeal dark chocolate chunk breakfast cookies stat!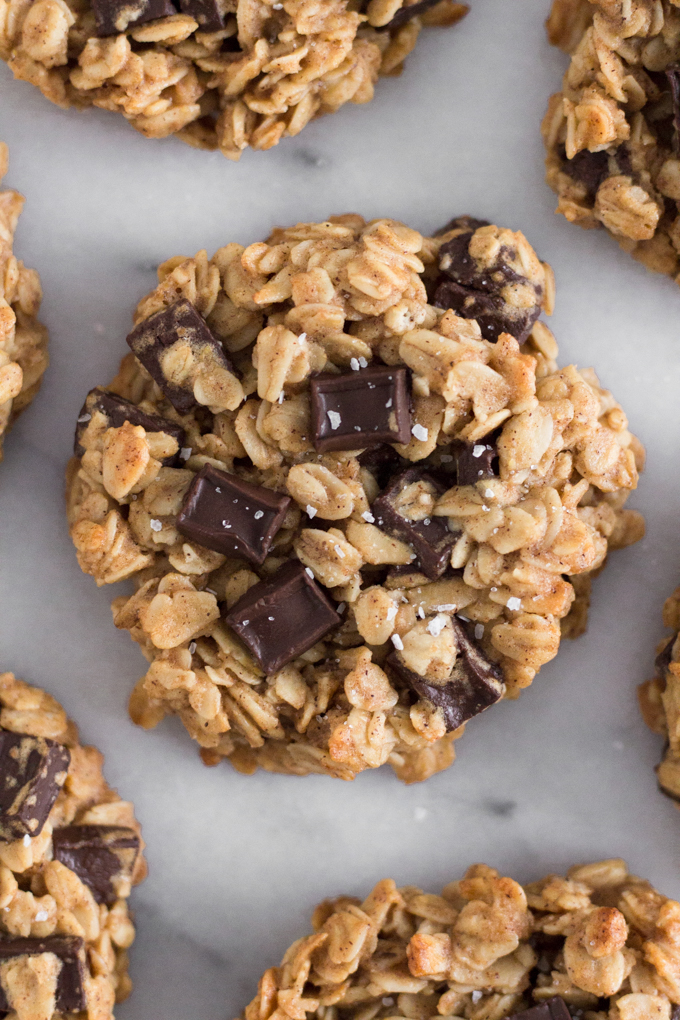 [recipe title="Oatmeal Dark Chocolate Chunk Breakfast Cookies" servings="6 (makes 12 cookies)"]
INGREDIENTS:
1/3 cup whole wheat flour
1 tsp. ground cinnamon
1/2 tsp. baking powder
1/4 tsp. sea salt
1 egg, room temperature
1/2 cup unsalted butter, melted and cooled
1/2 cup honey
1/3 cup peanut butter
1 tsp. vanilla extract
3 1/2 cups old fashioned oats
2/3 cup dark chocolate chunks
DIRECTIONS:
Preheat oven to 350°F.
In a medium bowl, whisk together flour, cinnamon, baking powder and salt. Set aside.
In a large bowl, whisk together egg and butter. Add honey, peanut butter, and vanilla and whisk to combine.
Add flour mixture and stir just until combined. Add oats and stir just until combined. Fold in chocolate chunks.
Use a 1/4 cup measuring cup to scoop balls of dough onto a baking sheet lined with a silicone baking mat or parchment paper, leaving at least 2 inches between each cookie. Use your hands to lightly flatten each ball.
Bake cookies for about 12 minutes, until edges of cookies are golden brown. Let cookies cool on tray for 5 minutes before transferring to wire rack to cool completely.
Cookies can be stored in an airtight container at room temperature for up to a week or in the freezer for up to 3 months.
Recipe Notes:
To make these cookies peanut allergy friendly, use another creamy nut butter or sunflower seed butter in place of peanut butter (and ensure that all other ingredients were produced in a peanut-free facility).
To make these cookies gluten-free, replace the whole wheat flour with 1/2 cup superfine almond flour or oat flour (and confirm that all ingredients were produced in a gluten-free facility). You may need to increase the baking time by a few minutes. [/recipe]
Follow ALWAYS EAT DESSERT on Pinterest, Instagram, and Facebook for more indulgent baked-from-scratch recipes and baking tips.
DON'T FORGET TO PIN THIS RECIPE FOR LATER!