This homemade salted caramel sauce recipe is dangerously easy to make (no candy thermometer necessary)! Four simple ingredients, one saucepan, and 15 minutes are all you need to whip up a batch of the most luxuriously smooth and buttery sea salt caramel sauce you'll ever taste.
Despite having so many years of baking experience under my belt, I've always been a bit intimidated by homemade caramel. I've made it successfully a few times, but I've also burned it a few times (nothing tastes worse than burnt caramel), and once I was even concerned for my safety while trying to make caramel. But now that I've overcome my fear and tackled homemade caramel, I can honestly say that - with the right recipe - it's actually really easy to make. My only regret is that I didn't master making homemade caramel sauce sooner!
This salted caramel sauce is one of the most-tested recipes on my site. It's honestly a crime how much sugar and butter were harmed during the testing of this recipe. BUT, I learned a ton during the process (mostly in terms of how not to make caramel), AND now I have a foolproof method and recipe for making perfect caramel sauce every time, so it was totally worth it!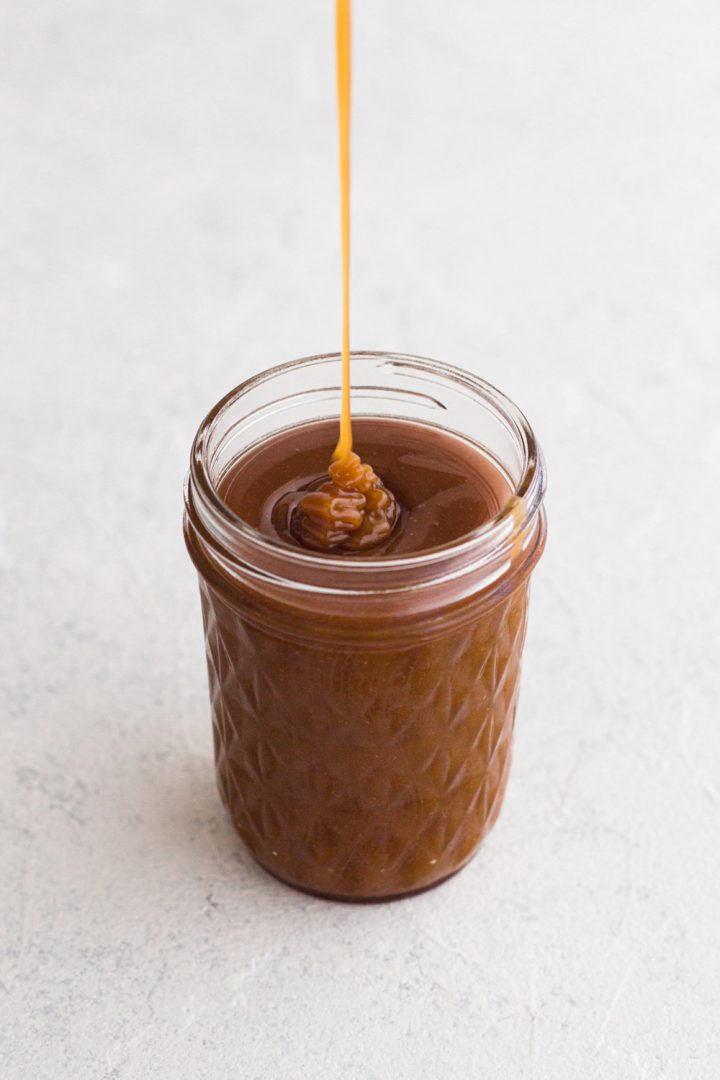 Before I landed on the perfect recipe, I tested different ratios of ingredients along with several shortcuts, most of which were total flops. For example, swapping brown sugar for white sugar will make the caramel overly sweet, and the flavor of brown sugar doesn't hold a candle to the complex flavor of caramelized sugar. Also, you can't just add all the ingredients at once (it was worth a shot?) or the sugar won't properly dissolve, resulting in a gritty mixture that separates as it cools.
However, two shortcuts that I tested proved successful:
Skip the candy thermometer! In testing this recipe I found that my eyes were the most useful tool for determining when the sugar is caramelized. Be sure to read the note in the recipe for help determining when the sugar is ready for the cream and butter.
Many recipes for caramel sauce recommend heating the cream in a separate saucepan before adding it to the sugar. For this recipe I found this to be unnecessary, so let's skip this step and save ourselves from having to wash two pans!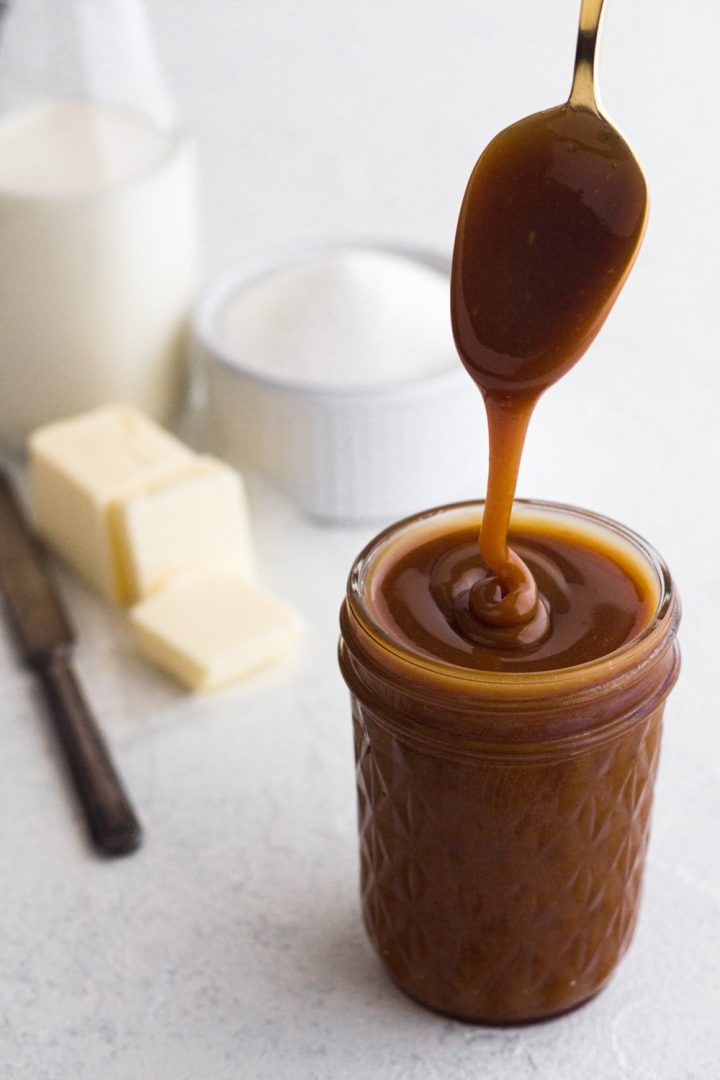 How to Make Homemade Salted Caramel Sauce from Scratch (it's easier than you think!)
You'll need just 4 ingredients (5, if you count the water) to make this easy salted caramel sauce. We'll cook all the ingredients in one pan, and there's no special equipment (no candy thermometer!) necessary.
First, combine sugar, sea salt, and water in a saucepan and simmer until the sugar dissolves.
Continue cooking until the sugar caramelizes. (Check out the recipe notes for visual cues to help you determine when the sugar is caramelized.)
Remove the pan from the heat and add cream and butter. (Recipes always warn about the mixture bubbling up at this stage and the need to be extra cautious, which used to really intimidate me. But don't stress over this step! The mixture will bubble up, but it never came close to overflowing the saucepan and it didn't spit or splatter. Do use caution during this step since you're working with very hot sugar, but don't let it scare you away from making your own homemade salted caramel sauce!)
Let the caramel sauce cool slightly, then drizzle it over EVERYTHING!
Homemade salted caramel sauce is perfect for drizzling on just about everything from pies to ice cream, cake, brownies, apple pie bars, and more! And blend it into buttercream frosting (like I did with this spice cake recipe) for the most velvety smooth caramel frosting. What will you eat it with first?
More Dessert Topping Recipes
Love this recipe? Please leave a star rating and review on the recipe below! And don't forget to subscribe to Always Eat Dessert for even more simple recipes, baking tips, and inspiration.
Recipe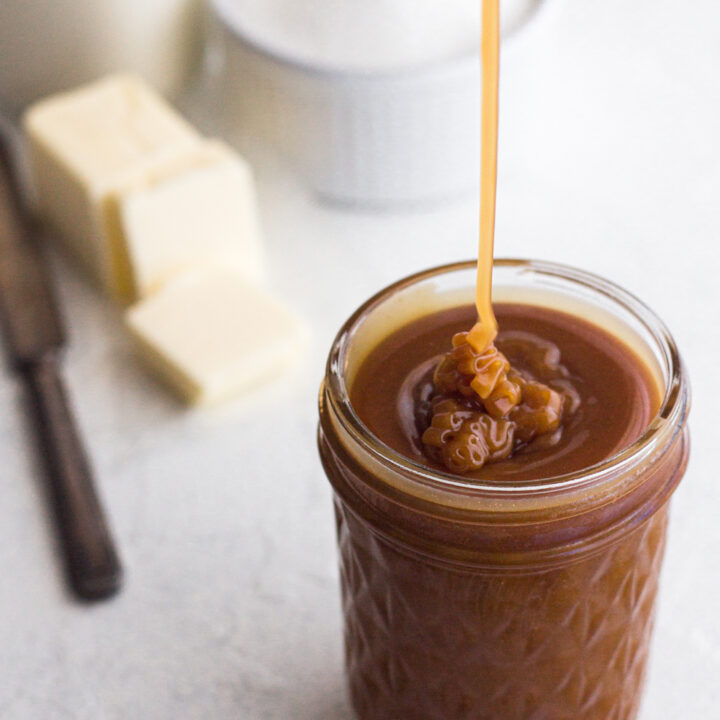 Easy Homemade Salted Caramel Sauce
This homemade salted caramel sauce recipe is dangerously easy to make (no candy thermometer necessary)! Four simple ingredients, one saucepan, and 15 minutes are all you need to whip up a batch of the most luxuriously smooth and buttery sea salt caramel sauce you'll ever taste.
Print
Pin
Rate
Ingredients
1

cup

granulated sugar

¾

teaspoon

fine sea salt

¼

cup

water

¼

cup

heavy cream

4

Tablespoons

unsalted butter,

cut into cubes
Instructions
In a medium saucepan, combine sugar, salt, and water. Bring the mixture to a simmer over medium heat and stir occasionally until the sugar is completely dissolved, about 5 minutes.

Increase the heat to medium-high and continue to cook the mixture without stirring until the sugar caramelizes and becomes a deep golden color*, about 7 more minutes.

Remove the pan from the heat and immediately stir in the cream and butter. The caramel will bubble up when the cream and butter are added, so be careful.

Allow the caramel to cool for 10-15 minutes in the pan (it will thicken as it cools) before drizzling over your favorite treats or transferring to a glass jar (making sure to let the caramel cool completely before sealing the jar).
Notes
Storage: Once the caramel is completely cool, store salted caramel sauce in a glass jar in the refrigerator for up to 2 weeks. Reheat the caramel in a pan on the stove or in the microwave before serving.
*The caramelized sugar should be a deep golden, almost orange color (think the color of a copper penny). If the sugar is yellow or lightly golden, it's not yet caramelized. The resulting caramel sauce will be light in color and lacking in flavor (and gritty if the sugar wasn't fully dissolved). If the sugar is burnt orange or red in color, the sugar had burned and the caramel will taste burnt and terrible. It would be a waste to add the cream and butter; instead, wait for the burnt sugar to cool before disposing it and starting over.
Nutrition
Serving:
2
Tablespoons
|
Calories:
172
kcal
|
Carbohydrates:
25
g
|
Protein:
1
g
|
Fat:
8
g
|
Saturated Fat:
5
g
|
Polyunsaturated Fat:
1
g
|
Monounsaturated Fat:
2
g
|
Trans Fat:
1
g
|
Cholesterol:
23
mg
|
Sodium:
221
mg
|
Potassium:
9
mg
|
Sugar:
25
g
|
Vitamin A:
284
IU
|
Vitamin C:
1
mg
|
Calcium:
7
mg
|
Iron:
1
mg