Made with chocolate mousse, graham cracker crumbles, and toasted marshmallow meringue, these s'mores dessert shooters put an elegant spin on a classic summer treat!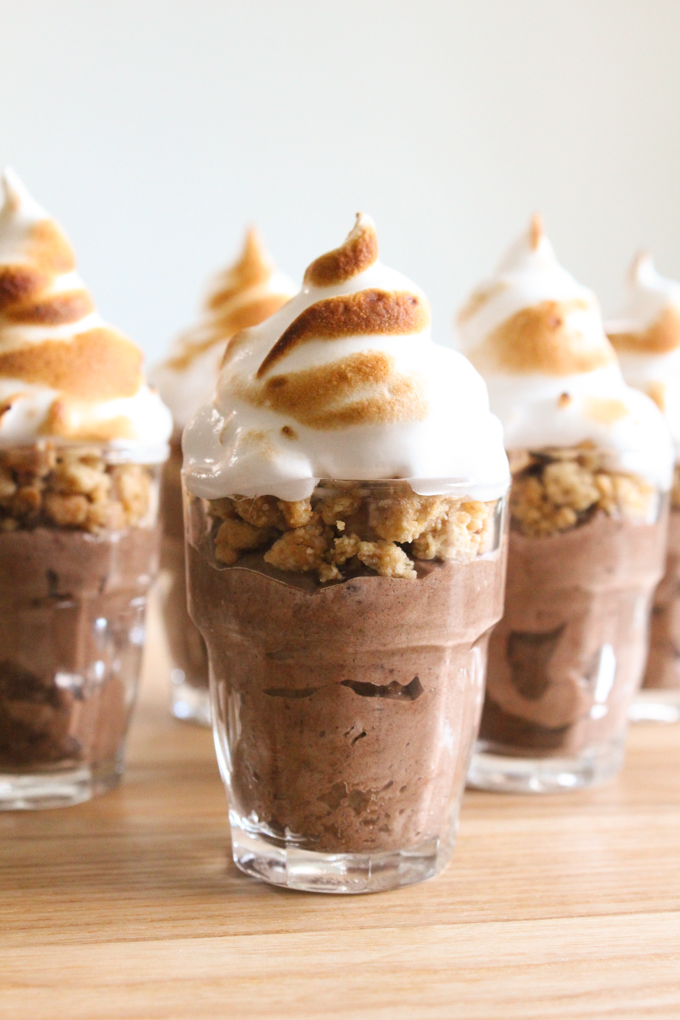 My love for s'mores is no secret. I've shared a few s'mores inspired recipes in the past (like these S'mores Ice Cream Sandwiches and these S'mores Sticky Buns), and I even have an entire S'mores Pinterest board dedicated to all things chocolatey, graham cracker-y, and marshmallowey! But I have to say, these S'mores Dessert Shooters are currently my all-time FAVORITE s'mores dessert!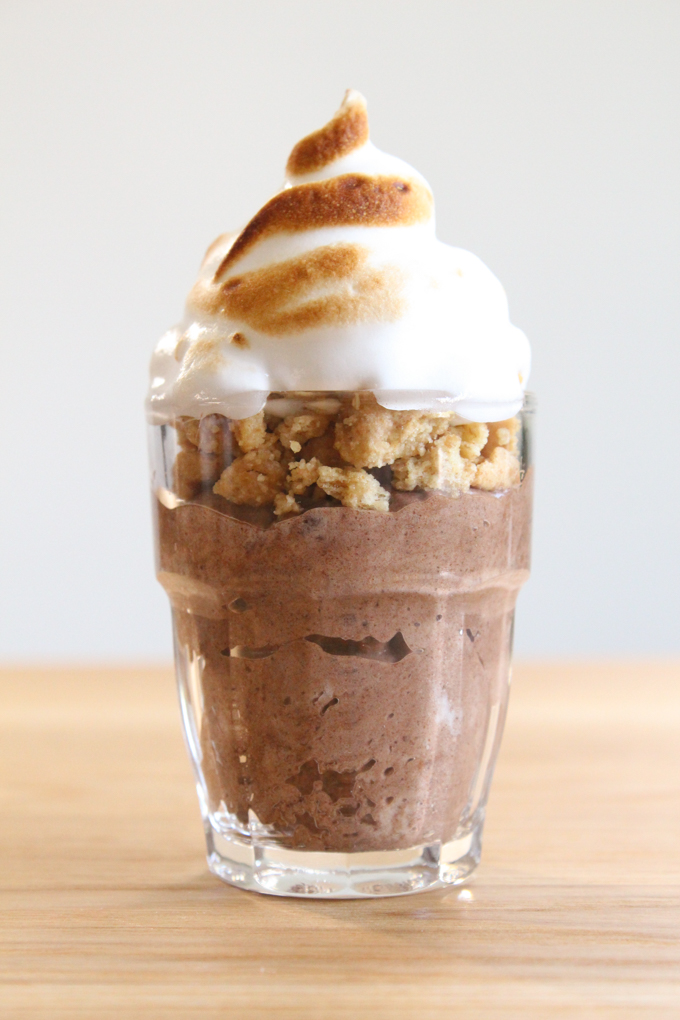 It definitely takes a little bit more time to make these S'mores Dessert Shooters than to make a classic s'more, but I promise these pint-sized indulgent desserts will be worth the effort! These dessert shooters pack lots of intense s'mores flavor into each mini dessert!
To make S'mores Dessert Shooters we'll layer rich and airy chocolate mousse, buttery graham cracker crumbles, and light-and-fluffy marshmallow meringue for a drool-worthy, decadent dessert!
A kitchen torch is not a must-have for this recipe, but it does give the marshmallow meringue topping that beautiful toasted look. If you don't have a kitchen torch and don't want to purchase one then no worries... this dessert will still be absolutely delicious un-toasted!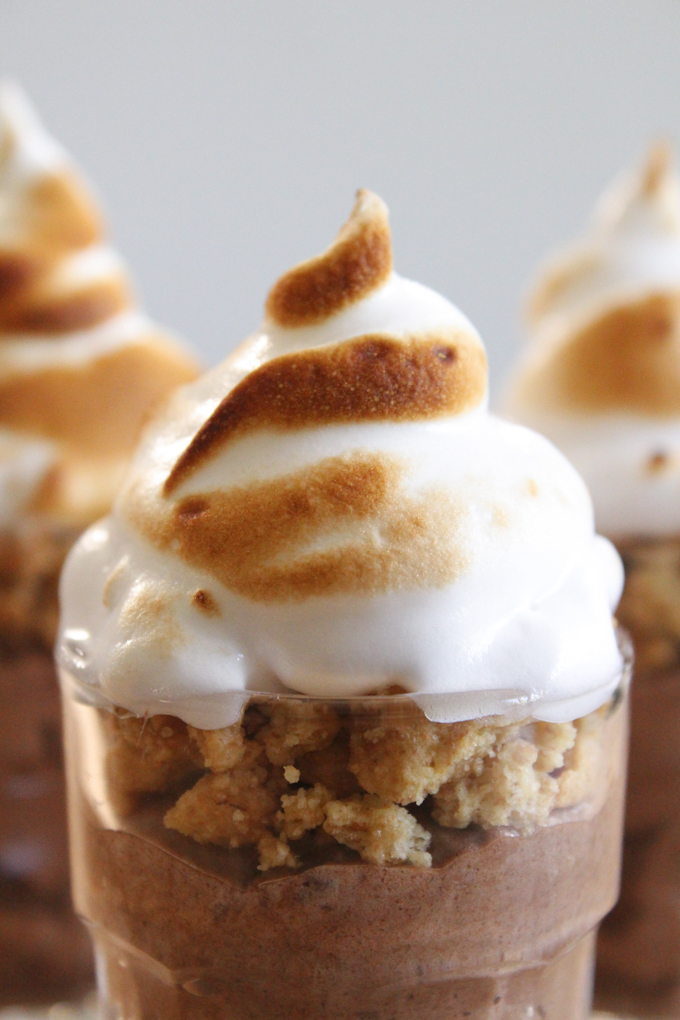 [recipe title="S'mores Dessert Shooters" servings="8"]
INGREDIENTS:
for the chocolate mousse:
1/4 cup heavy cream, chilled
2 egg yolks plus 1 egg white (reserve the remaining egg white for the marshmallow topping, keeping it chilled until ready to use)
1/8 cup strong coffee, room temperature
4-1/2 tsp. sugar, divided
pinch of salt
3 ounces semisweet chocolate, chopped
for the graham cracker filling:
6 graham cracker squares
3/4 T unsalted butter, melted
for the marshmallow topping:
1/8 cup water
1/16 tsp. cream of tartar
1/4 cup sugar
1 egg white
DIRECTIONS:
make the chocolate mousse:
In a medium bowl, beat 1/4 cup of the heavy cream using a hand mixer until stiff peaks form. Cover the bowl with plastic wrap and place in the fridge to chill while prepping the rest of the recipe.
Place a small amount of water in a saucepan and bring to a simmer. Place a metal bowl on top of the pan of simmering water to create a double boiler, checking to make sure the bowl sits above and does not touch the water. In the bowl, combine the egg yolks, coffee, salt, and 3 tsp. of the sugar. Cook the mixture, whisking constantly, until it becomes lighter in color and doubles in volume. An instant-read thermometer inserted into the mixture should read 160°F.
Remove the bowl from the pan of simmering water. Add the chocolate and whisk until the chocolate melts and the mixture is smooth. Let the mixture stand, whisking occasionally, until it cools to room temperature.
In a medium bowl, beat the egg white using a hand mixer until the egg white becomes foamy. With the mixer running on low speed, slowly add the remaining 1-1/2 tsp. sugar. Increase speed to high and beat the mixture until stiff peaks form.
Fold the egg white into the chocolate mixture, being careful not to remove the air from the mixture. Then gently fold the chilled whipped cream into the chocolate mixture just until blended, again being careful not to deflate the mixture.
Fill 8 2 oz. shot glasses with chocolate mousse so that each glass is filled within about 1/2 inch from the top. Cover each with plastic wrap and chill for at least 2 hours (and up to 24 hours).
make the graham cracker filling:
Place graham crackers into a plastic bag and smash into small crumbs using the back of a wooden spoon. Pour the crumbs into a bowl and add melted butter. Mix together with a fork so that crumbs just begin to stick together. Set aside.
make the marshmallow topping:
In a small saucepan, heat water, cream of tartar, and sugar over medium heat stirring until dissolved. When the syrup starts to boil, cover the pan and let boil for 3 minutes. Then uncover the pan and allow to cook for another 2 minutes without stirring.
While the syrup is cooking, place egg white in a medium bowl and beat well with a hand mixer on high speed until fluffy. Then, with the mixer running on medium speed, slowly add the syrup. Return the mixer to high speed and continue to beat the mixture until the it reaches room temperature and stiff peaks form.
assemble the s'mores dessert shooters:
Remove the shot glasses with chocolate mousse from the fridge. Top the chocolate mousse with the graham cracker filling so that each glass is full. Top each glass with the marshmallow topping. Using a kitchen torch, lightly toast the marshmallow atop each glass. Serve immediately.
Chocolate mousse recipe adapted from Bon Appetit.
Meringue topping recipe adapted from Joy of Cooking.
[/recipe]