Blueberry cardamom pancakes pair the last of summer's fresh blueberries with the delicious flavor of cardamom for a breakfast treat that's perfect for the transition from summer to fall!
Every year at this time, in the weeks after Labor Day but before the leaves really begin to change colors, I find myself torn between not wanting to say goodbye to the lazy days of summer and excitedly awaiting the arrival of cozy fall days. It's the perfect in between time, when the weather is still warm but you feel the urge to dig your favorite fall booties out from the back of your closet and head to the apple orchard.
That's exactly how I feel about these blueberry cardamom pancakes. They're the perfect bridge between summer and fall.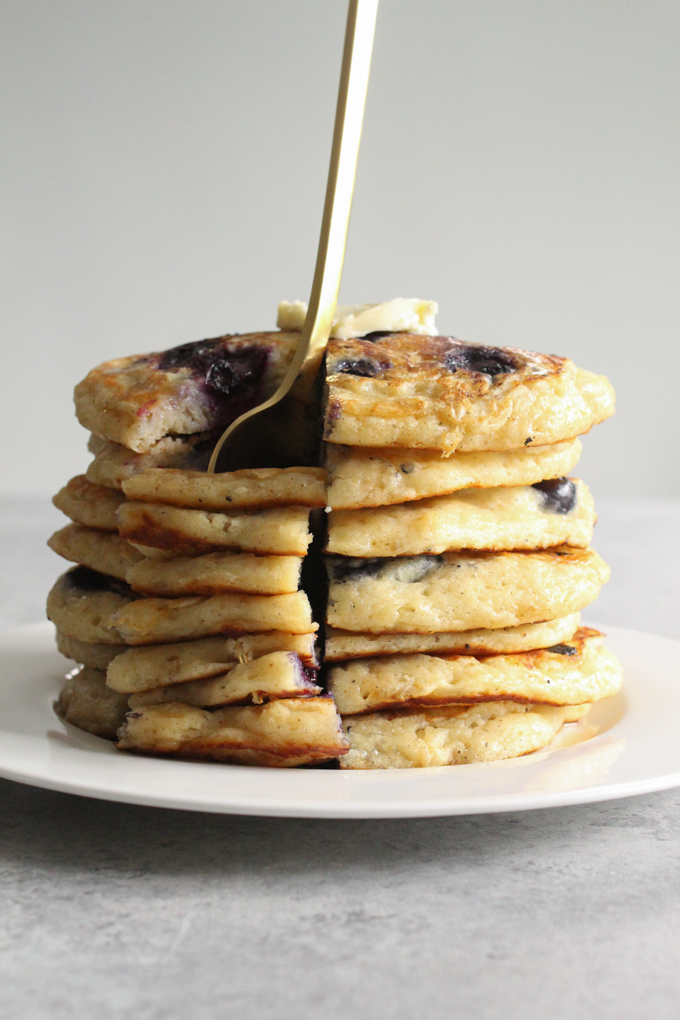 On one hand, you have the last of summer's fresh blueberries, still bursting with flavor. On the other hand, you have the spicy taste of ground cardamom, reminding you of all the best scents of fall. Together, they create a sweet and spicy blend of seasonal flavors that will make your mouth water. Added to fluffy buttermilk pancakes drizzled with maple syrup, it's a flavor combination you won't soon forget!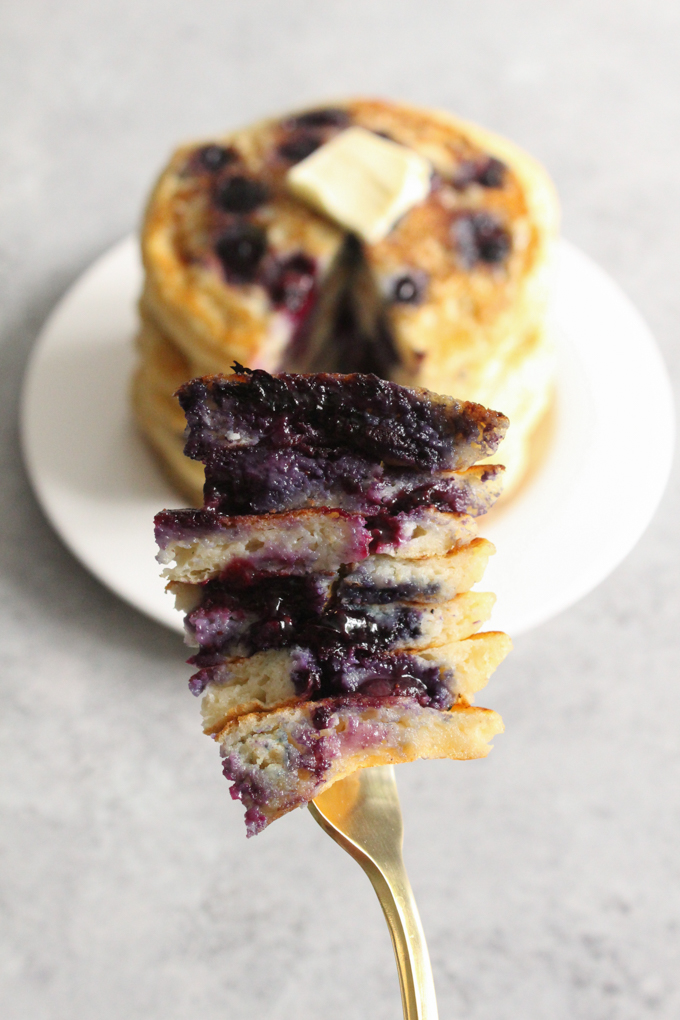 Blueberry Cardamom Pancakes
Servings=2-3 (makes about 8 pancakes)
INGREDIENTS:
1 ½ cups all-purpose flour
3 tsp. ground cardamom
2 tsp. baking powder
½ tsp. baking soda
½ tsp. salt
¼ cup unsalted butter, melted
1 ¾ cups full-fat buttermilk
1 egg
2 tsp. vanilla extract
3 Tbsp. granulated sugar
1 pint fresh blueberries
extra butter, for greasing skillet and serving
maple syrup, for serving
DIRECTIONS:
In a small bowl, whisk together the flour, cardamom, baking powder, baking soda, and salt. Set aside.
In a large bowl, combine the butter, buttermilk, egg, vanilla, and sugar. Stir until well blended. Add the flour mixture and stir gently with a wooden spoon, being careful not to overmix the batter. It should still be a bit lumpy. Let the batter sit for 10 minutes.
Lightly grease a griddle or skillet with butter and heat to medium heat. Scoop ⅓ cup of batter onto the griddle or skillet for each pancake. Let the pancakes cook for about 2 minutes, until they puffs up slightly and bubbles begin to appear on the surface of the batter. Then top each pancake with a handful of blueberries. Cook for another minute or two, just until the bubbles begin to pop. Then flip each pancake* using a spatula and allow to cook for another minute, or until both sides are golden brown. (*It should be easy to slide a spatula under the pancakes to flip them. If you can't easily slide the spatula under the pancake, let it cook a bit longer and try again.)
Serve the pancakes with additional butter, if desired, and maple syrup.