A classic gin and tonic becomes even more refreshing with the addition of fresh cucumber, lime, and mint. It's a perfectly elevated summertime cocktail recipe.
Jump to:
With just one more week until our wedding, I'm completely obsessing over every last little detail. Details are so important to me; they're what takes anything (an event, an outfit, a home, a meal) from good to great. While every wedding includes vows, a special dress or outfit, and some food, it's the details that we've planned for our big day that will make our wedding uniquely ours.
One detail that we knew we wanted from the beginning was a signature cocktail. We poured over recipes trying to find one that sounded tasty and unique but appealing to a crowd, but in the end we decided on a jazzed-up gin and tonic since it's a crowd-pleasing drink that we both love.
A lime wedge may be a traditional choice for garnishing this cocktail, but the addition of a couple of less expected gin and tonic garnishes - cucumber and mint - really elevate this cocktail into something that's even more refreshing and a bit more special.
Ingredient Notes & Substitutions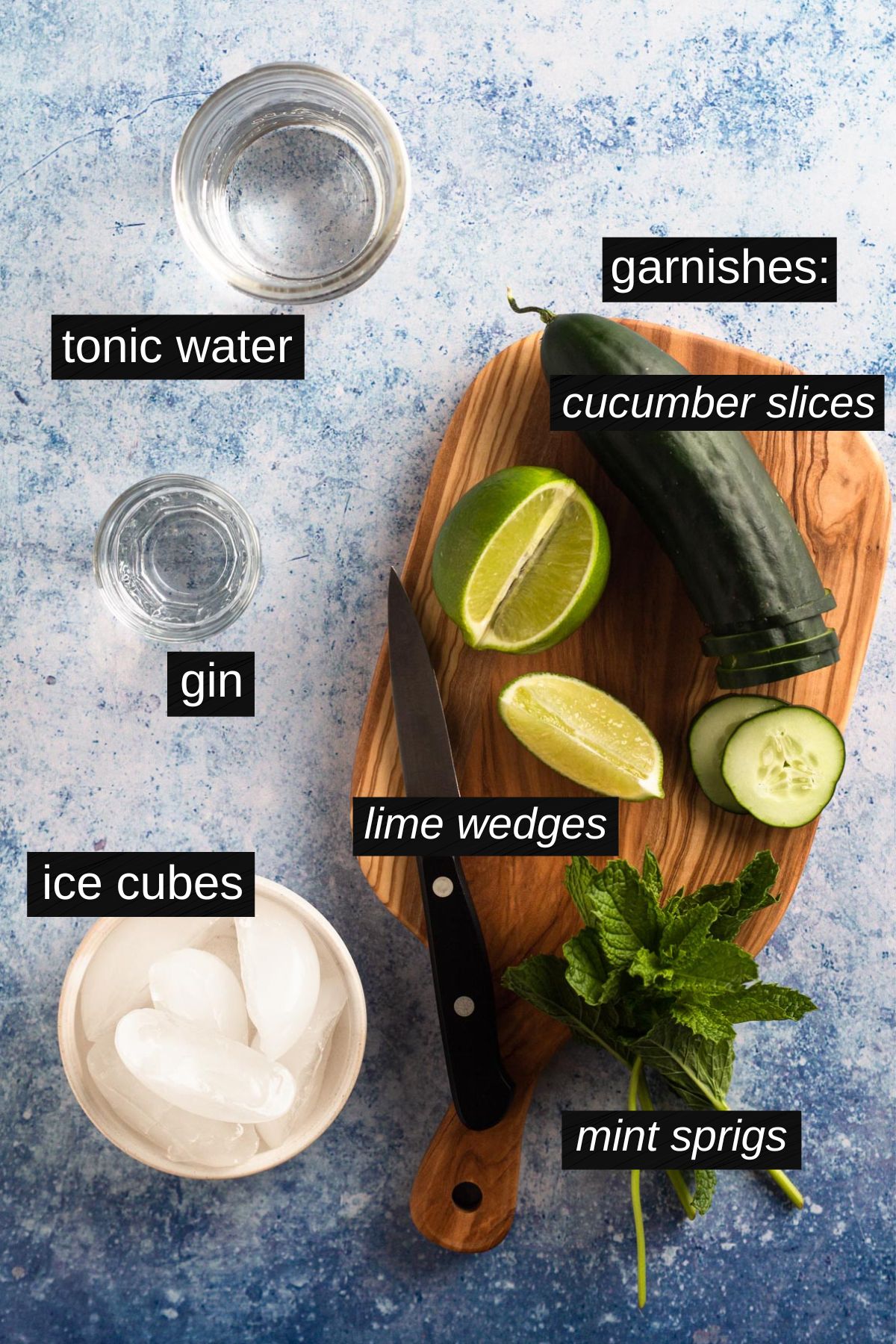 Gin - This spirit is distilled with juniper berries and other botanicals and comes in many varieties. London dry gin is the most common type of gin and has a distinct piney taste thanks to the juniper berries, while many modern gins have a less pronounced pine flavor. Choose any gin you like for this recipe and check out some of my favorites below.
Tonic Water - Tonic water is a soft drink that combines carbonated water with tonic syrup with a flavor that's slightly bitter (thanks to quinine) and sweet. The ingredients in tonic will vary by brand, though they all likely contain quinine (extracted from the bark of the cinchona tree and having medicinal properties), other botanticals, and sweetener. As the majority of the drink is tonic water, opt for a quality tonic made with natural quinine.
Garnish - I chose to use lime wedges, cucumber slices, and a sprig of mint for this classic and refreshing version, but you can use any fruit, herb, or other garnish you prefer (see below for some ideas).
Ice cubes - This drink is certainly best enjoyed cold, so ice is key. Choose ice cube shape and size to suit your preferences (and be sure it fits your glass).
Step-By-Step Recipe Instructions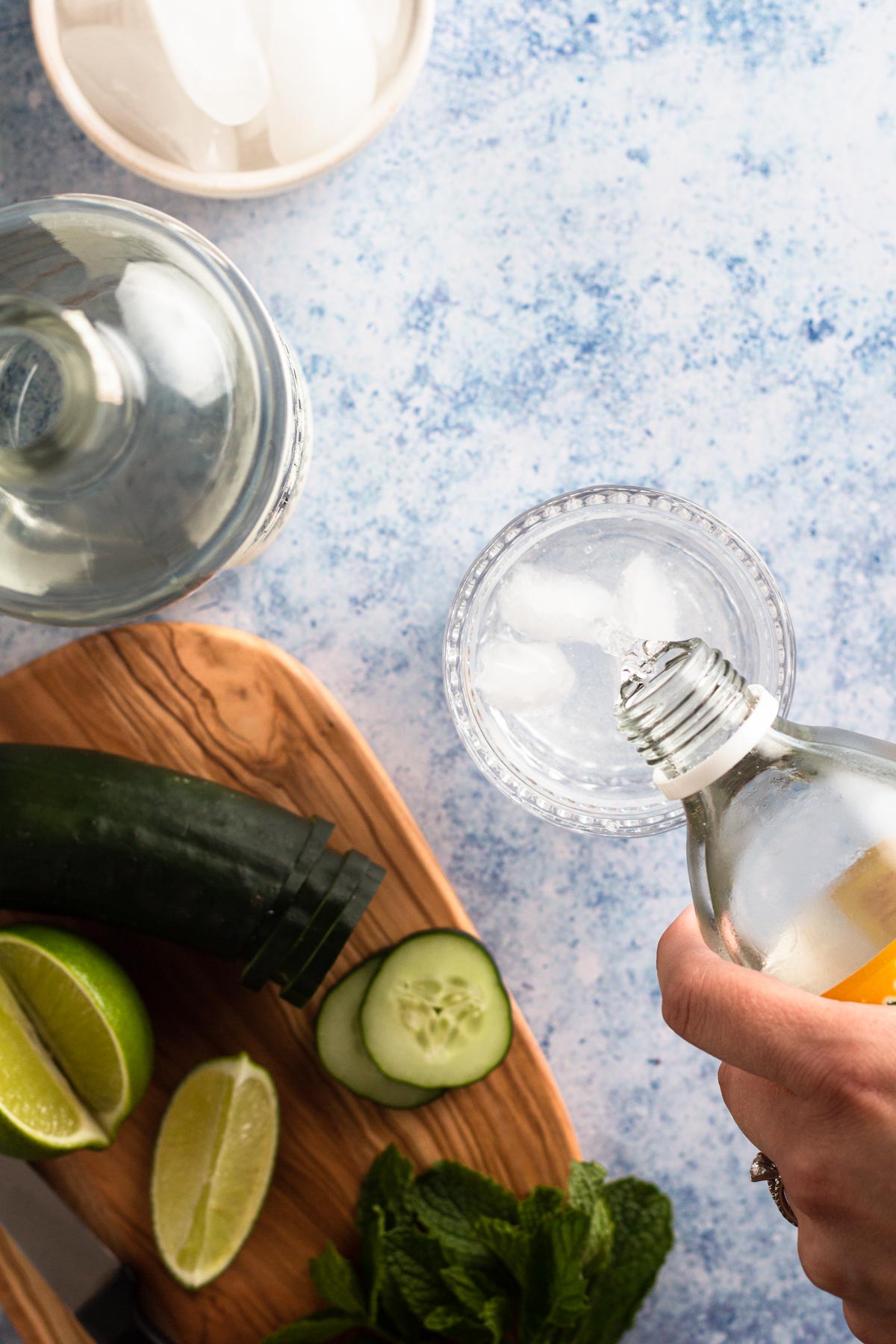 Step 1 - In a glass, add ice cubes and gin and top with tonic water.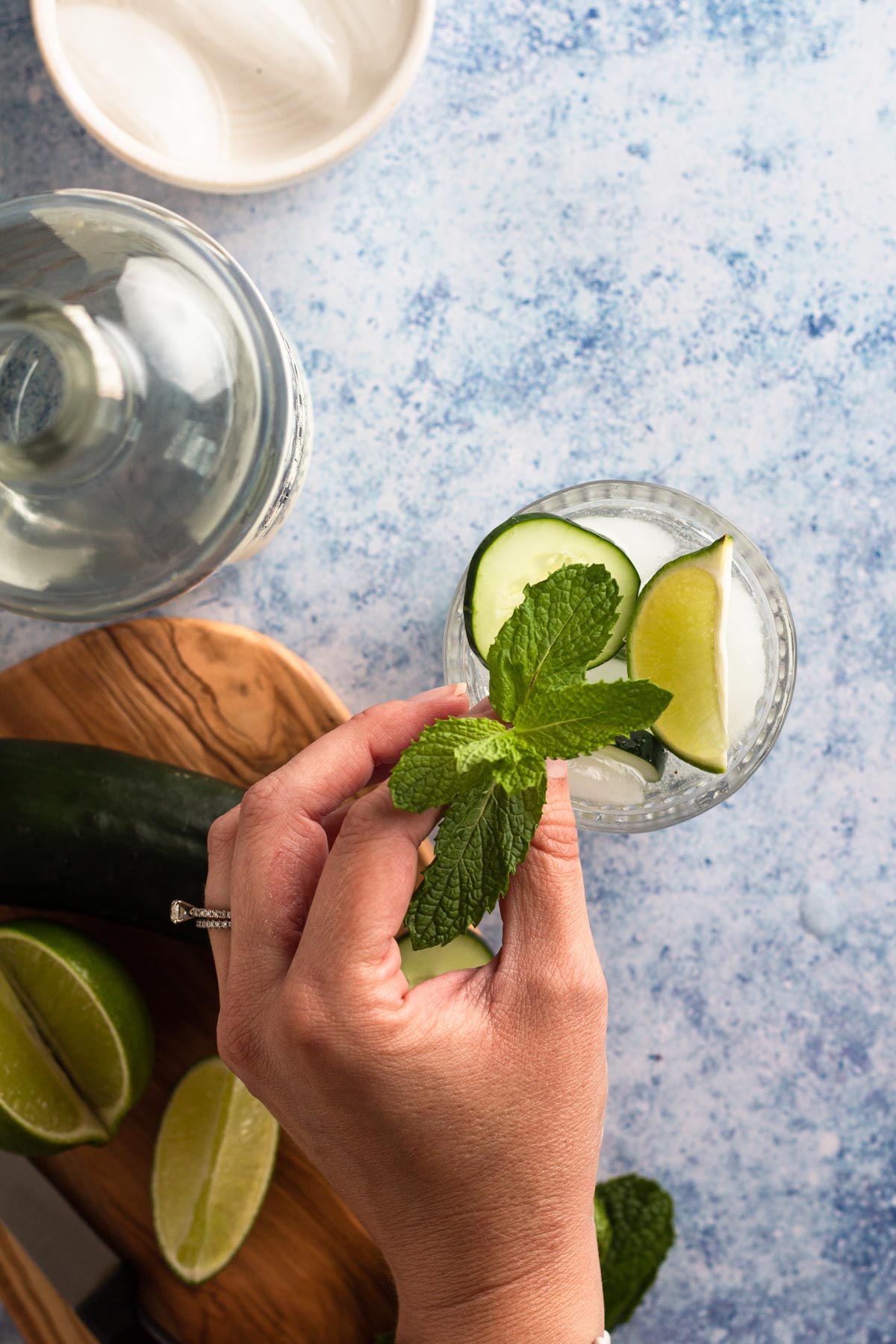 Step 2 - Add cucumber slices, lime wedges, and mint sprig. Stir (very gently so you don't release too much carbonation) and enjoy!
What gin is best for gin and tonic?
The best gin is the one you like best! Here are some popular favorites that I recommend:
Tanqueray - For a classic gin and tonic, a London dry gin like Tanqueray is the best choice.
Hendrick's - Hendrick's gin is distilled with rose and cucumber and has a deliciously unique flavor.
Empress 1908 - Empress gin is distilled with butterfly pea blossom, which gives the gin a natural indigo hue, and black tea. If you're wanting to create drinks that are as beautifully colorful as they are delicious then look no further!
A local or small batch gin you enjoy. If you're local to the Philadelphia area I recommend Liberty Gin.
What garnish goes with gin and tonic?
When considering how to garnish your drink, look for fruits, herbs, or other flavors that will either accentuate or complement the botanicals in the gin. Here are some ideas:
Lime wedge - the classic garnish
Cucumber slice - a refreshing pairing (and recommended with Hendrick's gin)
Mint sprig
Juniper berries
Lemon wedge
Strawberry slices
Grapefruit slices
Citrus peel (lime, lemon, orange, or grapefruit)
Rosemary sprig
Peppercorns
Basil sprig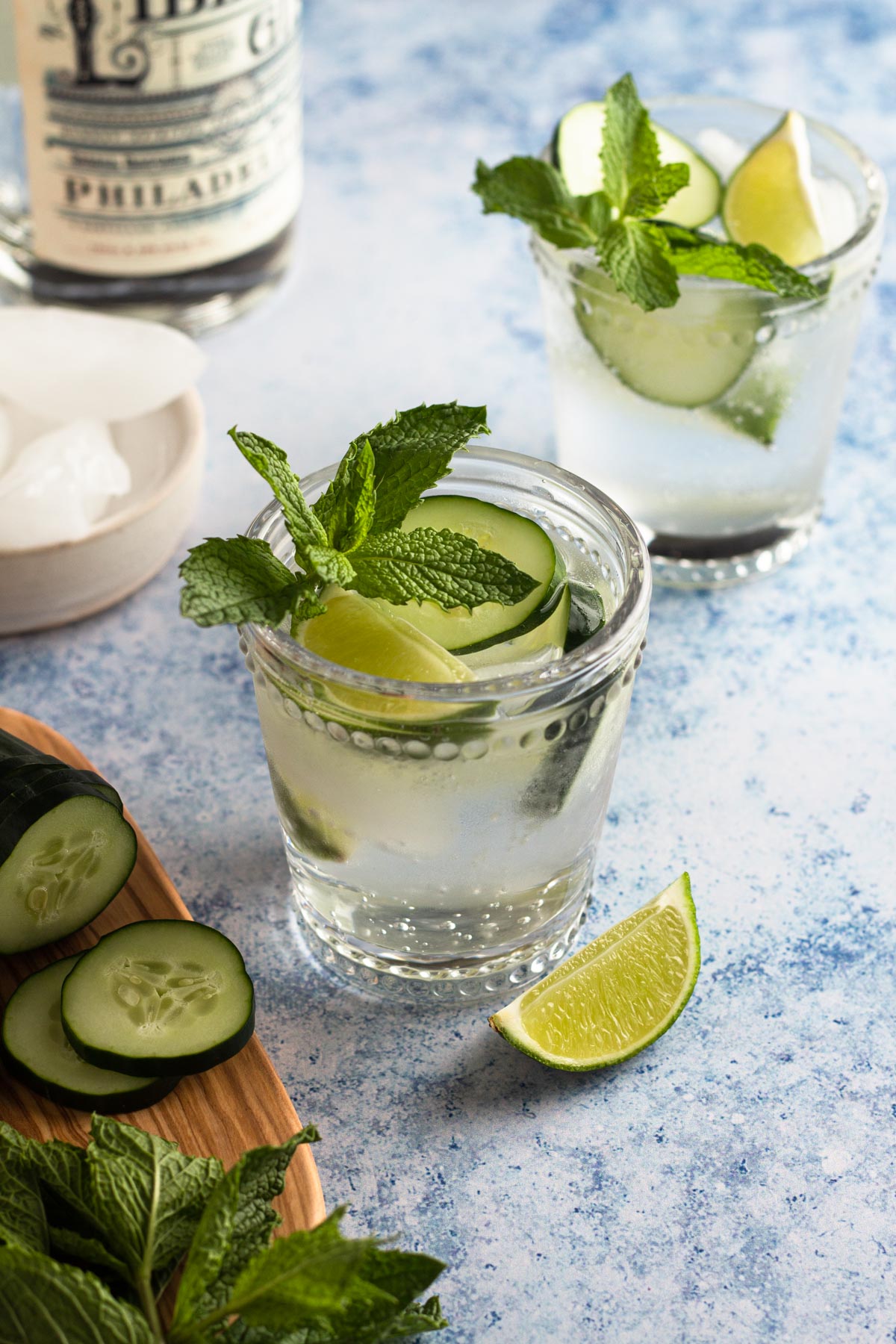 Recipe Tips
Stir the cocktail very gently and briefly before serving. The goal is to mix the blend the gin with the tonic without releasing the carbonation in the tonic. Many recipes won't mention stirring for fear of
Be sure the tonic is well chilled so that the ice in the drink will melt more slowly and avoid diluting the drink.
For the most attractive garnish, select the best looking produce you can find.
Avoid buying mint in a clam shell package at the grocery store, since the leaves become bent in the package and the plant is likely to wilt quickly. Cutting a fresh sprig from a homegrown plant is the best option, but a fresh bunch of mint from the farmers market or grocery store will work well, too.
Recipe FAQs
What is the ratio of gin to tonic?
A 1:3 ratio of gin to tonic is a classic choice that will please most cocktail drinkers. Of course, adjust the ratio to meet your personal preferences, keeping in mind that too little gin won't balance the bitter taste of quinine in the tonic and too much gin will make for a strong drink (and possibly a hangover later).
Can I substitute soda for tonic?
Yes, but the result will be quite different. While soda water and tonic water are both clear and carbonated, soda lacks the sweetness and hint of bitter quinine of tonic.
What kind of glass do you use for gin and tonic?
Unlike some other cocktails, there's lots of flexibility when it comes to choosing a glass for your gin and tonic, and you can choose whatever style you prefer. A highball glass (or a tall and skinny collins glass) is a classic choice with plenty of room for both ice and garnish. A lowball or rocks glass, as shown here, holds less ice but makes for a simple and attractive presentation. Lastly, a copa glass (shaped like a balloon or bowl and similar to a red wine glass), is a great choice since its shape enhances the gin's aromatics and it also has plenty of room for ice and garnish.
More Garnished Drink Recipes
Love this recipe? Please leave a star rating and review on the recipe below! And don't forget to subscribe to Always Eat Dessert for even more simple recipes, baking tips, and inspiration.
Recipe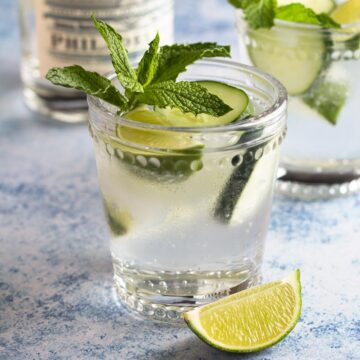 Gin and Tonic with Fresh Cucumber, Mint, and Lime
A classic gin and tonic becomes even more refreshing with the addition of fresh cucumber, lime, and mint.
Print
Pin
Rate
Yield:
1 cocktail (can be easily multiplied)
Ingredients
4

ice cubes

2

ounces

gin

6

ounces

tonic water,

chilled

4

cucumber slices

2

lime wedges

1

mint sprig
Instructions
In a glass, add ice cubes and gin and top with tonic water.

Add cucumber slices, lime wedges, and mint sprig. Stir (very gently so you don't release too much carbonation) and enjoy!
Nutrition
Calories:
142
kcal
|
Carbohydrates:
4
g
|
Protein:
0.3
g
|
Fat:
0.1
g
|
Saturated Fat:
0.01
g
|
Polyunsaturated Fat:
0.02
g
|
Monounsaturated Fat:
0.01
g
|
Sodium:
40
mg
|
Potassium:
41
mg
|
Fiber:
1
g
|
Sugar:
1
g
|
Vitamin A:
18
IU
|
Vitamin C:
10
mg
|
Calcium:
22
mg
|
Iron:
0.3
mg