Bake a simple and sturdy gingerbread house that kids of all ages will love to decorate for Christmas! In this post I'm sharing a recipe for rock-solid gingerbread and icing that's perfect for DIY gingerbread house construction, plus lots of tips and decorating ideas for how to make a homemade gingerbread house.
Jump to:
There are so many wonderful traditions that help to make the holiday season such a magical one. For me, those traditions include baking (and eating!) my favorite Christmas cookies and decorating the tree while enjoying a glass of egg nog. And, of course, decorating a gingerbread house!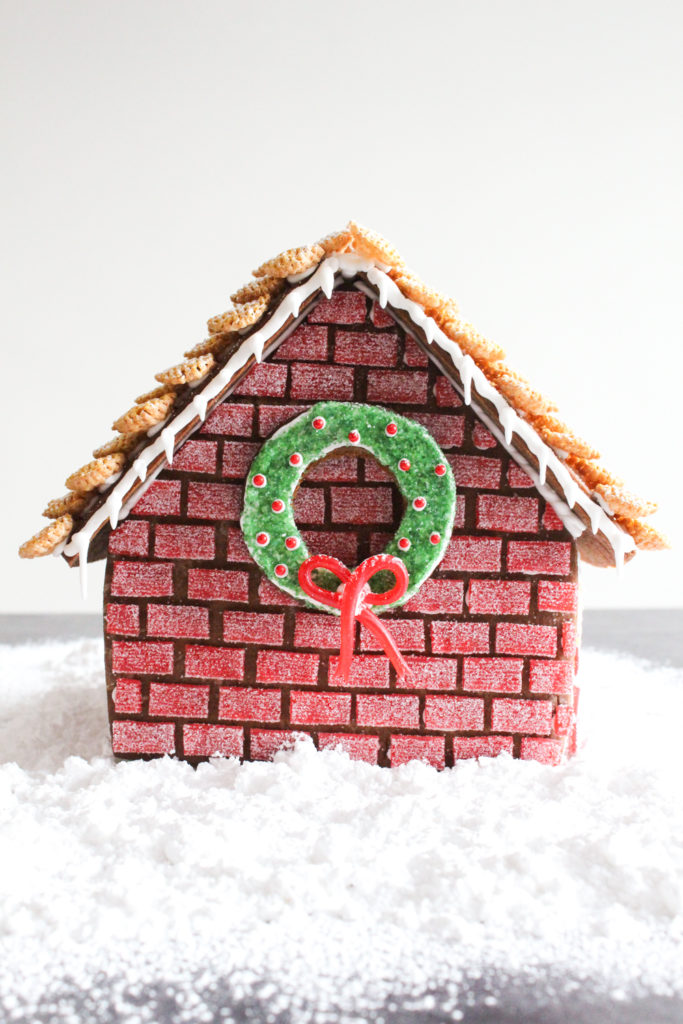 My siblings and I used to decorate a gingerbread house together every year. We'd each get to decorate one side of the house, and the end result would be a hodgepodge of icing and candy. It wasn't always pretty, but we always had fun decorating the house together. So today, in the hopes that you and your family will find the same joy in baking and decorating a house together, I'm sharing a version of the tried-and-true homemade gingerbread house recipe that my family has been using for decades.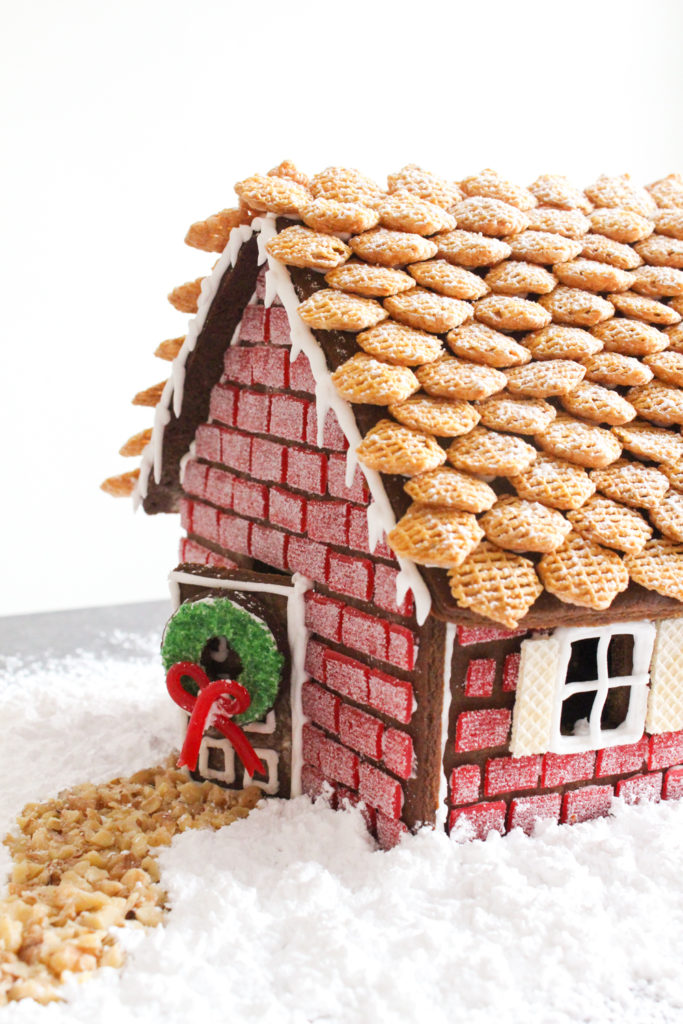 How to Keep a Gingerbread House from Falling Apart
My best tip for making a gingerbread house that will hold up through the entire holiday season: use a rock-solid gingerbread house recipe!
If you're looking for a gingerbread recipe that makes soft, delicious gingerbread cookies perfect for decorating and eating, this is NOT it. (But I've got you covered; head right this way for my recipe for perfect gingerbread cookies.) This recipe makes gingerbread that's as hard as a rock. You'd crack a tooth trying to eat it. But it's excellent for building a nice and sturdy gingerbread house that will last all season.
And you don't just need sturdy gingerbread. You'll want strong "glue" too. This recipe uses an icing that dries hard to securely hold the house together. I've adapted the gingerbread house recipe that my family has been using for years, and while the gingerbread and icing are technically edible, they're designed to create a solid gingerbread house.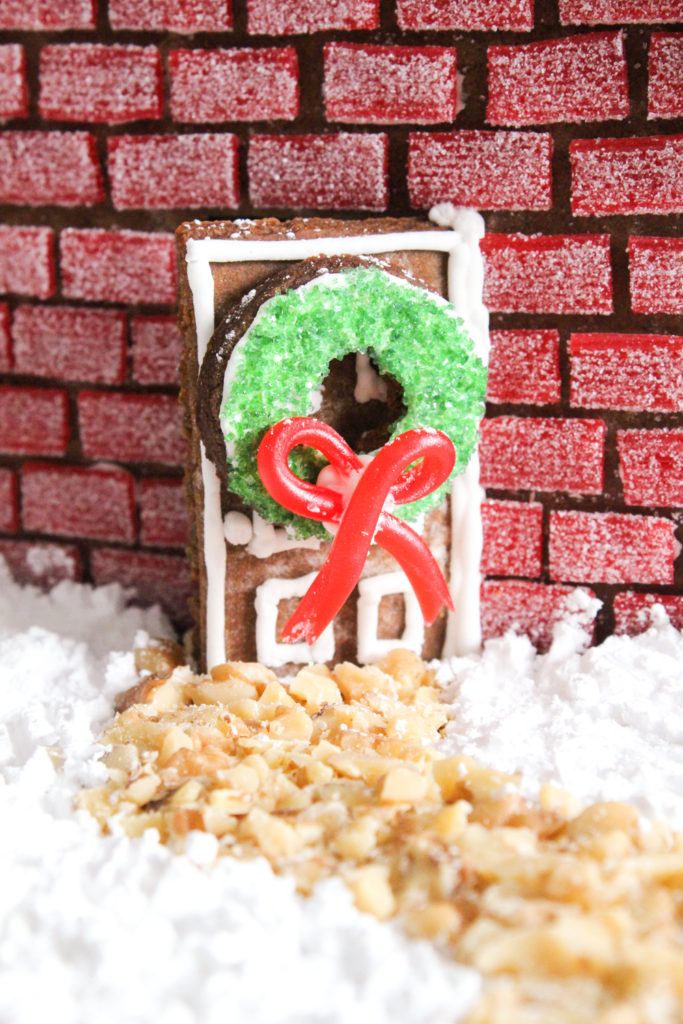 Keep scrolling for my homemade gingerbread house recipe, tips and tricks for building your own gingerbread house, and exactly how I decorated the house shown here!
Tips for Making a Homemade Gingerbread House from Scratch:
Use a gingerbread recipe that will create a hard cookie for a more sturdy house. Use an icing recipe that will dry hard to securely hold your house together. Keep scrolling for my gingerbread house and gingerbread house "glue" recipes!
Use a silicone baking mat to get perfectly cut pieces. Instead of rolling out your dough on the counter and moving your cut pieces of dough to a baking sheet (and risking stretching the dough slightly in the process), roll and cut your dough right on your baking mat. Then remove the excess dough without moving the cut out pieces and transfer the baking mat onto a cookie sheet. This will ensure that your cut out shapes don't get stretched our squished and retain their shape so that all the pieces of your house will fit together nicely when it's time to construct the house.
If adding intricate designs to the sides of the house (such as piped "glue" design or the "bricks" shown here, I suggest adding these decorations before you assemble the house. It will be much easier to create your design with the sides of the house laying flat. Just be sure that your design is completely dry before assembling the house.
Gingerbread House Decorating Ideas (and How I Decorated My Gingerbread House):
Roof - I created the look of a shingled roof using Crispix cereal and dusted the roof with confectioners' sugar to look like a dusting of snow.
Brick - I wanted the exterior of the house to look like brick, so I used red sour candy belts, which I cut into small rectangles. (I wasn't able to find these at grocery stores or big box retailers, but eventually found them at a local candy store. I also found them in bulk on Amazon here.) I attached the bricks to the front, back, and sides of the house before assembling the house.
Wreaths - I cut extra circles from the gingerbread dough to create the wreaths. I then covered the front of the wreaths in "glue" and dipped them in green sanding sugar. On the larger wreath, I added small red sprinkles to look like decorations.
Wreath Bows - To make the bows, I used Twizzlers pull'n'peel candy. I carefully peeled the individual pieces and shaped them into a bow, securing them with "glue".
Windows - To create the windows, I piped "glue" onto a piece of wax paper in the shape of the window and window panes. Once this hardened, I peeled them from the wax paper and used more "glue" to attach them to the house around each window.
Shutters - I used these wafer cookies to create the shutters. I split the cookies in half and used the side without the cream filling. I cut each cookie piece into smaller rectangles to fit the windows I had cut.
Walkway - I used chopped walnuts to create the walkway to the front door.
Snow - For this gingerbread house I used confectioners' sugar as snow. It looks great, but I actually don't recommend this if you're planning to leave your gingerbread house on display because if someone sneezes near it you're going to have a huge mess! Shredded coconut would be a less messy option. Or you could use extra "glue" to frost your base.
Icicles - I made icicles along the roof by carefully piping "glue" down from the edge of the roof.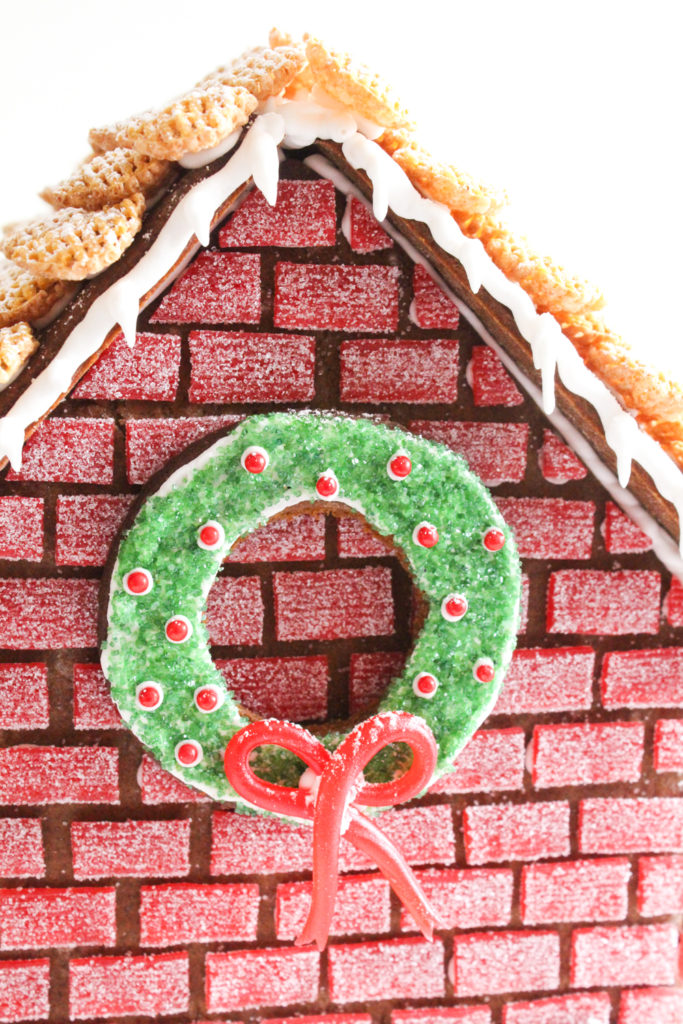 Recommended Tools for Making a Homemade Gingerbread House:
You can absolutely make a gingerbread house without these tools, but they will definitely make your life easier!
Gingerbread house cookie cutter set
A silicone baking mat makes moving your cut shapes from the counter to the baking sheet a breeze (I love my Silpat mat). You could also use parchment paper.
A piping bag and a small, round piping tip (I like Wilton's disposable piping bags and used this piping tip to make my gingerbread house)
A sturdy base to build your house on (a cutting board, marble slab, or large piece of thick cardboard will work great)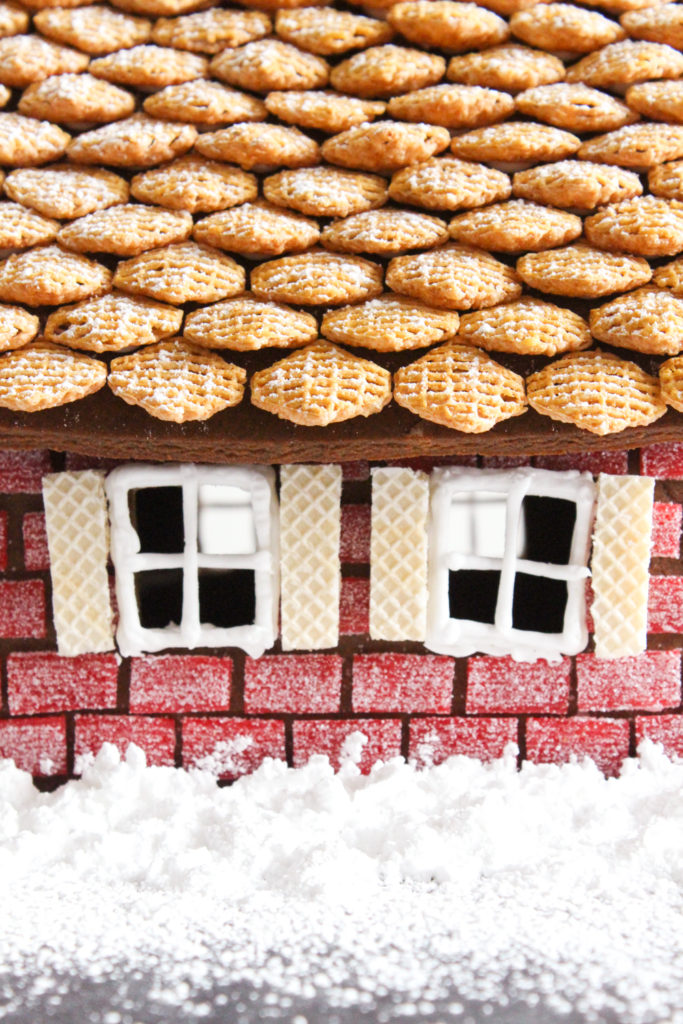 More Gingerbread Recipes
Love this baking tutorial? Please leave a star rating and check out these other great baking tips linked above! And don't forget to subscribe to Always Eat Dessert for even more baking tips and simple dessert recipes.
Recipe
Homemade Gingerbread House
This recipes makes a simple and sturdy gingerbread house that kids of all ages will love to decorate!
Print
Pin
Rate
Yield:
1 gingerbread house (approximately 7 inches wide x 7 inches tall x 7 inches deep)
Special Equipment
Large saucepan

Gingerbread house cookie cutters or stencil

Electric hand mixer (or stand mixer with the whisk attachment)

Piping bag (small round piping tip optional)
Ingredients
Gingerbread Dough
½

cup

vegetable shortening

½

cup

granulated sugar

½

cup

molasses

2 ½

cups

all-purpose flour

½

teaspoon

baking soda

1 ½

teaspoon

ground ginger

½

teaspoon

ground nutmeg

½

teaspoon

fine sea salt
Icing (Gingerbread House "Glue")
3

cups

confectioners' sugar

1

teaspoon

cream of tartar

2

egg whites
Decorations
assorted candies, cereal, etc.
Instructions
Make the gingerbread dough.
In a large saucepan, melt the shortening over medium-low heat. Remove the saucepan from the heat, add sugar and molasses, and stir to combine. Keep stirring until the sugar is completely dissolved. Set aside to cool slightly.

In a medium bowl, sift the flour, baking soda, ginger, nutmeg, and salt to whisk and combine.

Slowly add 2 cups of the flour mixture to the saucepan with the molasses mixture ½ cup at a time and stir to combine. Place the dough on your counter or a silicone baking mat and add the remaining flour mixture. Use your hands to mix the remaining flour mixture into the dough, making sure it's thoroughly combined.

Preheat the oven to 375°F. Divide the dough into three equal pieces and roll each into a ball with your hands. Place each ball of dough on a silicone baking mat or a piece of parchment the size of a baking sheet. Roll each ball of dough into a rectangle ¼ inch thick.

Using a gingerbread house cookie cutter, cut the shapes you will need for the house (most likely 2 front/back, 2 side, and 2 roof pieces). Leave space between the cookie cutters when cutting the shapes so that there's space between the pieces when baking. Remove the excess dough from around the cut out shapes without moving the cut pieces. If you wish to cut any additional shaped into your gingerbread house (such as windows or doors), carefully cut the shapes using a knife but do not remove the extra dough, as it will help to hold the cut shape when the gingerbread bakes.

With just the cut out shapes remaining on your silicone baking mats or parchment paper, transfer the mats or papers to baking sheets. Bake the baking sheets one at a time for 13 to 15 minutes or until the gingerbread pieces just begin to darken around the edges.

Remove the tray from the oven and place the tray on a wire cooling rack. If you've cut any additional shapes into the dough, carefully recut those immediately after removing the tray from the oven while the gingerbread is still soft. Allow the gingerbread to cool completely on the tray. Once cool, do one final recut of any additional shapes and carefully remove the spare pieces.
Make the icing.
In a small bowl, whisk together confectioners' sugar and cream of tartar. Set aside.

In a medium bowl, use an electric hand mixer to beat the egg whites until foamy. Then gradually add the sugar and cream of tartar and continue to beat until the mixture is smooth and stiff peaks form when the beaters are lifted. (Note: If after you've completely mixed the ingredients together you're not able to achieve stiff peaks, you can add more confectioners' sugar, a Tablespoon at a time, until you reach stiff peaks. Conversely, if the mixture thickens beyond stiff peaks and begins to come together like a dough, it is over-mixed and will be impossible to pipe. Try adding a tiny bit of water to thing the mixture back to stiff peaks.)

Use a spatula to transfer the "glue" to a piping bag fitted with a piping tip (or you can use a large zip-top plastic bag with a tiny corner cut off. Be sure to seal the glue when not in use (a rubber band on the bag and a piece of tape over the piping tip will do the trick).
Assemble the gingerbread house.
How to assemble your gingerbread house will vary slightly based on the pattern/cookie cutters used, but you'll definitely want to start with a sturdy base. A cutting board, marble slab, or piece of sturdy cardboard all make excellent bases for a gingerbread house.

First, pipe glue along the bottom edge of your house's front and along the bottom edge and one side of one side of the house. Place these pieces together on the base so that they become glued to the base and to each other. Hold them steady for 5-10 minutes as the glue dries and hardens.

Then, do the same for the house's back and other side so that all pieces of the house are glued to each other at the edges and to the base. Hold these pieces for another 5-10 minutes as the glue hardens. Let the house sit for an hour to ensure that all of the glue is fully hardened and the house is secure.

Next, pipe glue along the top edges of the house and attach the roof pieces to the house. Hold the roof for 5-10 minutes while the glue dries, and let the roof sit for an hour to ensure the glue is fully hardened before decorating.

Once the glue has all fully hardened, it's time to decorate the house! This is your chance to get creative and use whatever foods and candies you like to design your gingerbread house. Use the glue to attach these items to the house, or you can pipe designs onto the house with the glue.
Notes
This recipe makes enough gingerbread and gingerbread house glue to construct one gingerbread house approximately 7 inches wide by 7 inches tall by 7 inches deep. If you're making a larger gingerbread house or if you want to also make lots of gingerbread people, trees, etc. to accompany the house then I recommend doubling the recipe.
The prep time included with this recipe is an estimate to mix the dough, bake the gingerbread, make the icing, and assemble the house. Thirty minutes of this time is waiting for the icing to dry while assembling parts of the house. Time to decorate the house is not included in the estimate and is up to you!