If your cookies are falling flat and driving you nuts, these cookie baking tips are here to save the day! Avoid these common cookie baking mistakes to help you bake cookies that turn out nice and thick instead of thin. Plus, if your cookies do turn out thin, I'll show you how to fix flat cookies.
Jump to:
If thick and chewy cookies are your thing, you've come to the right place! Here at Always Eat Dessert we like our cookies thick, chewy, and ultra delicious. I know that some people love their chocolate chip cookies thin and crispy, but we are not those people.
If you're struggling to bake thick cookies or if you can't seem to stop your cookies from spreading, I'm here to help! Maybe you have a beloved and trusted cookie recipe that's suddenly turning out flat and you don't know why. Keep reading for my best tips for how to fix flat cookies.
Tips for Avoiding Flat Cookies (Before Baking)
The best way to fix flat cookies is to avoid them in the first place. That means that there are a number of things to consider before the cookies go into the oven that can help to ensure they bake up nice and thick.
Measure the ingredients correctly. Adding too much or too little of an ingredient will impact the cookies you bake, and if you add too little flour or leavener you're likely to end up with cookies that are a bit flat. Measuring by weight is the most accurate, but these tips for measuring baking ingredients properly will help whether you're weighing by weight or volume.
Use fresh baking soda and baking powder. These leaveners help your cookies to rise, so be sure to use baking soda and baking powder that is not expired. Even if they're not expired, if they've been open for more than 6 months I recommend replacing them to ensure that they're fresh.
Keep your room temperature butter cool. If your recipe calls for room temperature butter for creaming the butter and sugar, know that even room temperature butter should be a bit cool (not warm). If you press on the butter and leave a small ident, it's room temperature. If your finger squishes into the butter, it's too warm.
Consider adding a tiny bit more flour. I wouldn't do this proactively, since it's always a good idea to follow the recipe, but if you've tried a recipe before and felt the cookies were not as thick as you'd like, adding another 2 Tablespoons (15 grams) of flour (and up to an additional ¼ cup (31 grams)) should help to create a thicker cookie.
Don't skip the mix-ins. If the recipe you're using includes chopped nuts or other mix-ins, choosing to leave them out of the dough could affect how they bake. It's best to replace the mix-ins with another 1 to 2 Tablespoons (8-15 grams) of flour.
Don't over mix dough. Over mixing the dough can lead to too much air being added, which can cause the cookies to collapse when they bake.
Roll dough into "tall balls". I learned this trick from Sally's Baking Addiction, and it's great for drop cookies! If you're scooping or rolling balls of cookie dough, it can be helpful to roll them into an oval rather than a perfectly round ball. Then stand them up tall on the cookie sheet to bake to help avoid spreading.
Chill cookie dough (even if recipe doesn't call for it). Cold butter won't spread as quickly, so chilling the cookie dough before baking helps to keep the cookies from spreading too much in the oven.
Do not grease pans and line them with parchment. Greasing your baking pans will only encourage the cookie dough to slide outward as it bakes, leading to thinner cookies. Instead line your baking sheets with parchment paper or a silicone baking mat to keep cookies from sticking to the pan.
Use cool baking sheets. If you scoop cookie dough onto a hot baking sheet that just came out of the oven, the butter in the cookies will heat more rapidly, causing the cookies to spread more than desired. Baking sheets should be room temperature when the dough is placed on them. Using at least two baking sheets, so that one is cooling while the other is in the oven, is helpful. Also, don't scoop cookie dough onto a warm pan and then let it sit before it goes into the oven.
Make sure oven isn't too hot. A too hot oven means the butter in the cookie dough will melt too rapidly, causing the cookies to spread too much. An oven thermometer is an inexpensive tool that lets you confirm the accuracy of your oven temperature and improve your baking.
Note: I've become suspicious that some butter brands may have begun adding a bit more water to their butter, since I have occasionally had a trusted recipe cookie recipe turn out flat in the last year when all other variables remain constant. I haven't tested this enough to say, but something to be aware of. If you have a trusted cookie recipe that's suddenly falling flat, you could try adding another 2 Tablespoons of flour to see if that improves the thickness.
Tip: Bake one test cookie so that you can identify and address any issues before baking the whole batch. If your test cookie comes out flat, you can try adding a tiny bit more flour and/or chilling the dough before baking the rest of the cookie dough.
Tips for Fixing Flat Cookies (After Baking)
If you've just pulled a tray of cookies out of the oven that spread too much when baking, here's how to rescue them!
"Cookie scooting" is a tip that I learned from Erin Clarkson of Cloudy Kitchen on Instagram, and it's the perfect solution to flat cookies. Immediately after taking the cookies out of the oven, place a large round cookie cutter over the cookie on the tray and swirl it in a circular motion. The still-hot cookie will scoot around inside the cookie cutter and be pushed into a circle. This helps to reign in any edges that spread while baking, and I find it to help thicken up cookies. You could also use a spoon to push the edges of the cookie inward.
I actually do this to all round cookies, since it helps to create perfectly round and pretty cookies, but it's also a great way to rescue cookies that turned out a bit thin.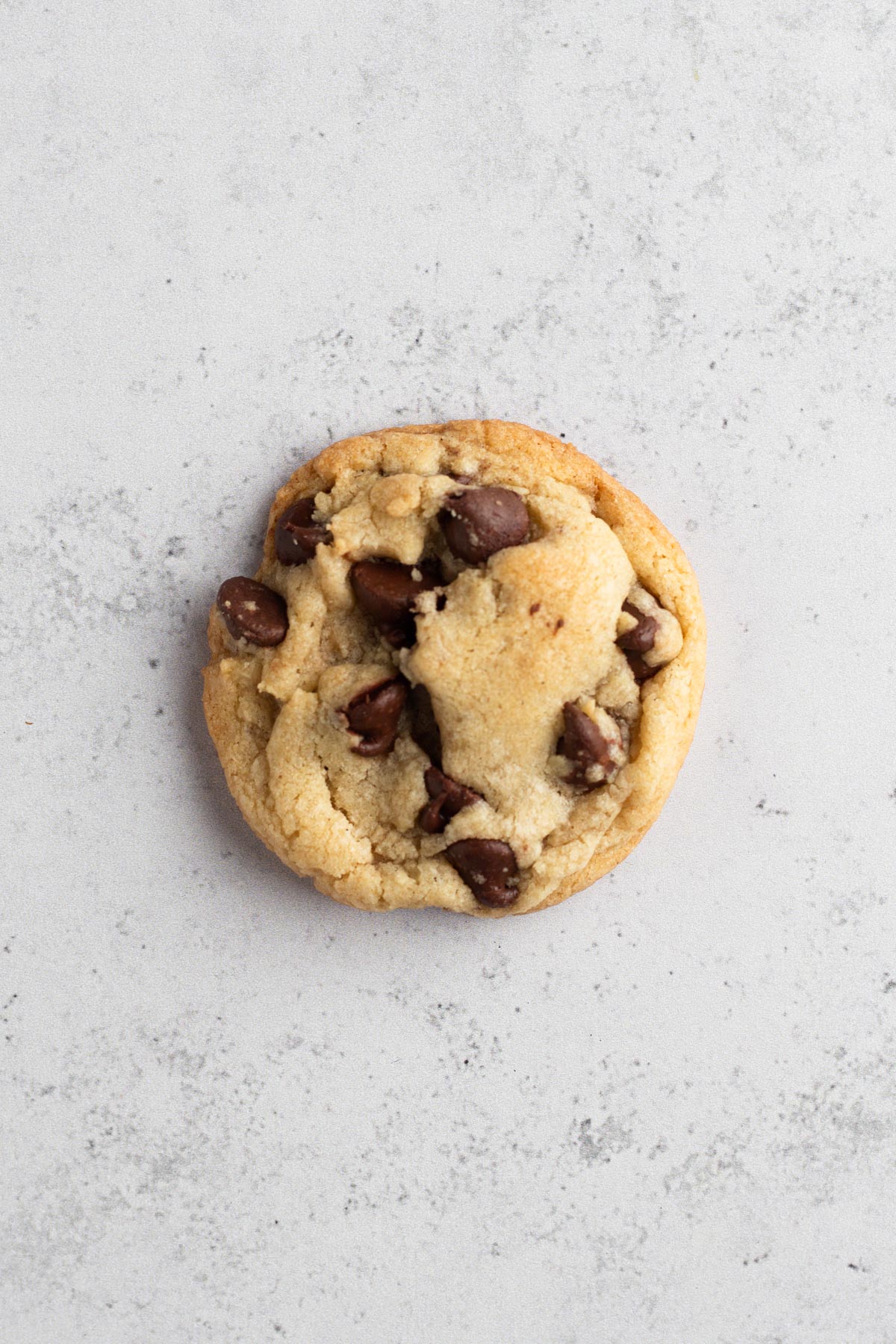 If your cookies have cooled and it's too late to save them, there could still be a way to put them to use. You could share them with a friend who likes their cookies thin and crispy (these people do exist). Or you could crumble them up and mix them into ice cream.
FAQs
How do I make my cookies thicker?
There are a handful of ways to ensure thicker cookies, but the simplest way is to add a bit more flour to the dough. If your cookies are turning out thinner than you'd like or spreading too much, try adding an extra 2 to 4 Tablespoons of flour to the dough.
How do I keep my cookies from spreading?
In addition to ingredient-specific tips (like being sure to add enough flour and making sure the butter isn't too warm), rolling the dough into tall rather than round balls, making sure your oven isn't too hot, not greasing your cookie sheets (and using parchment paper), and never putting cookie dough onto a hot baking tray will all help to keep cookies from spreading.
Will too much sugar make cookies flat?
In short, yes. Sugar contributes to spreading, so adding too much sugar to the dough will cause the cookies to spread too much. White sugar will cause more spread (and a crispier cookie) than brown sugar, which is why most chocolate chip cookie recipes use brown sugar to help create a thicker and softer cookie.
More Cookie Baking Tips
Love this baking tutorial? Be sure to check out these other great baking tips linked above! And don't forget to subscribe to Always Eat Dessert for even more baking tips and simple dessert recipes.