Impress your friends and family with homemade cookies that look as good as they taste with these tips for baking picture-perfect cookies!
Jump to:
I'm a firm believer that taste trumps appearance when it comes to dessert. A beautiful cake or a show-stopping pie is great, but if it doesn't taste good then what's the point? But luckily, when it comes to cookies, we don't have to choose! These are my top tips for baking picture-perfect cookies, so that your cookies can look as good as they taste.
Ground Rules
This post focuses on how to bake pretty cookies, but of course there are important cookie baking tips to know if you want to bake the most perfectly delicious cookies. Most importantly: follow the recipe as it's written. One more time for the people in the back: follow the recipe as it's written. This means use room temperature butter, if the recipe says to. Measure your ingredients properly. If the recipe says to chill the cookie dough before baking, then chill the cookie dough before baking. All of the recipe's ingredients, steps, notes, and little details are there for a reason, and making any changes will change the outcome of your cookies. If you're an experienced baker and feel comfortable adapting recipes to suit your preferences then have at it! But for bakers of all skill levels, know that any tweaks to the recipe (even seemingly minor tweaks) will change the outcome of the recipe.
Also important to note... the tips I'm sharing here are designed for scoop/drop cookies (like chocolate chip cookies), as opposed to slice-and-bake or roll-and-cut cookies. If you're on the hunt for some exceptional cookie recipes to try, here are some of my favorite scoop/drop cookie recipes...
Scoop & Drop Cookie Recipes
Tip #1: Use a Cookie Scoop to Portion Cookie Dough
Using a cookie scoop to scoop the cookie dough into balls before baking ensures that your cookie dough balls are evenly portioned. This is ideal for two reasons. First, uniformly sized cookies look pretty, and they stack neatly. And second, uniformly sized cookies will also bake more evenly in the oven, so you'll avoid over-baking smaller cookies while larger cookies on the tray finish baking. I love this oxo cookie scoop, which is available in three sizes.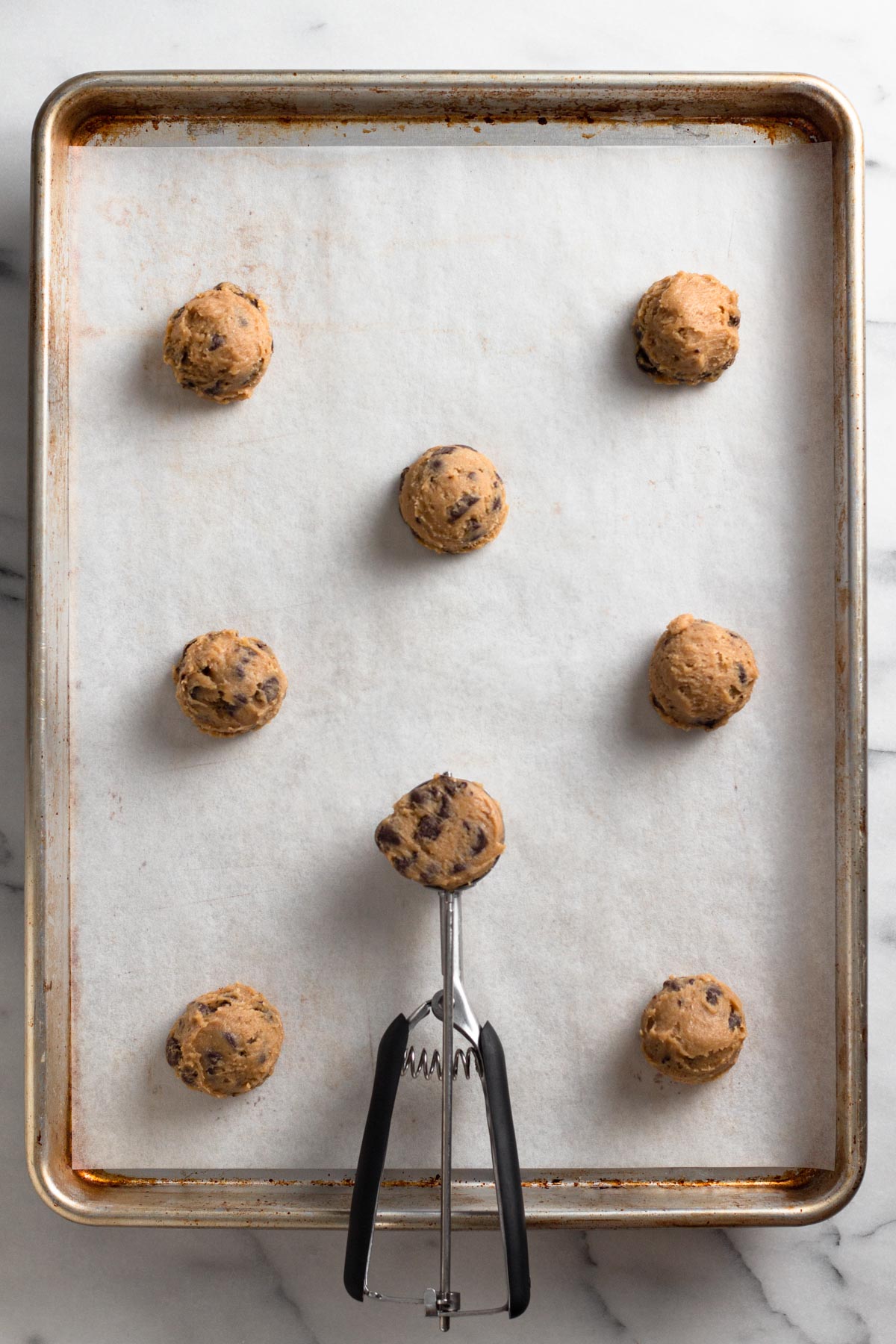 Tip #2: Space Cookie Dough Properly on Baking Sheet
Be sure to leave enough space between the balls of cookie dough on the baking sheet and also alternate the rows. This allows hot air to move around the cookies as they bake, allowing them to bake properly and evenly and avoids cookies spreading into one another.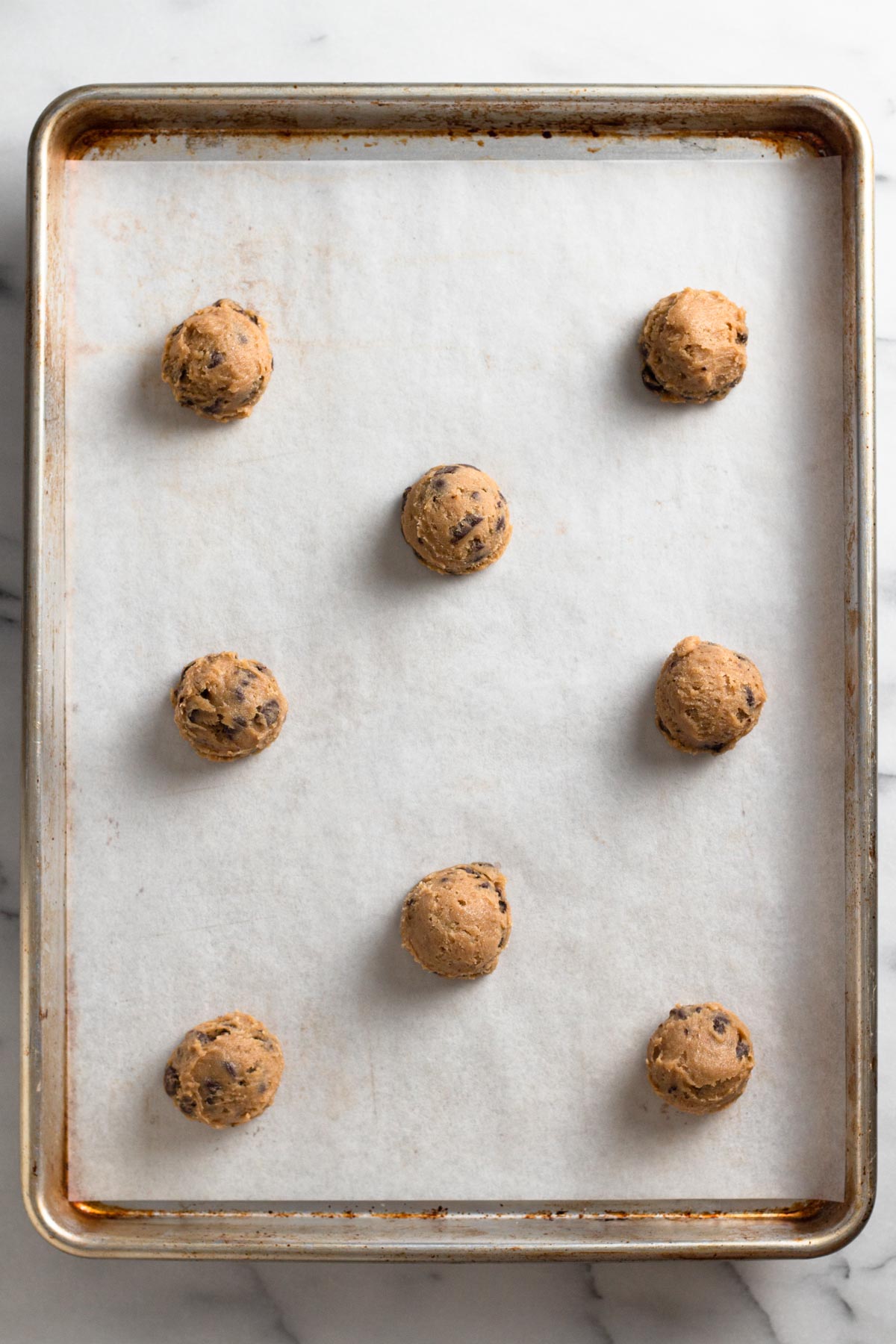 Tip #3: Swirl Baked Cookies Inside a Cookie Cutter
For perfectly round cookies, place a circular cookie cutter that's a bit larger than the size of the cookies over each cookie and swirl it around to shape the cookie into a perfect circle. This has to be done immediately after taking the cookies out of the oven, while the cookies are still hot and pliable. (Be very careful not to burn yourself; I recommend holding the baking sheet with one oven-mitted hand while using the cookie cutter with your other hand.) Bonus: this helps to save cookies that may have spread too much in the oven, so that they'll stay thick and chewy. (I love this round cookie cutter set for shaping just-baked cookies. With 11 sizes, it always has just the right size cookie cutter for this purpose.)
I first came across this tip when Erin from Cloudy Kitchen shared it on Instagram. She calls it "cookie scooting", and it's completely genius!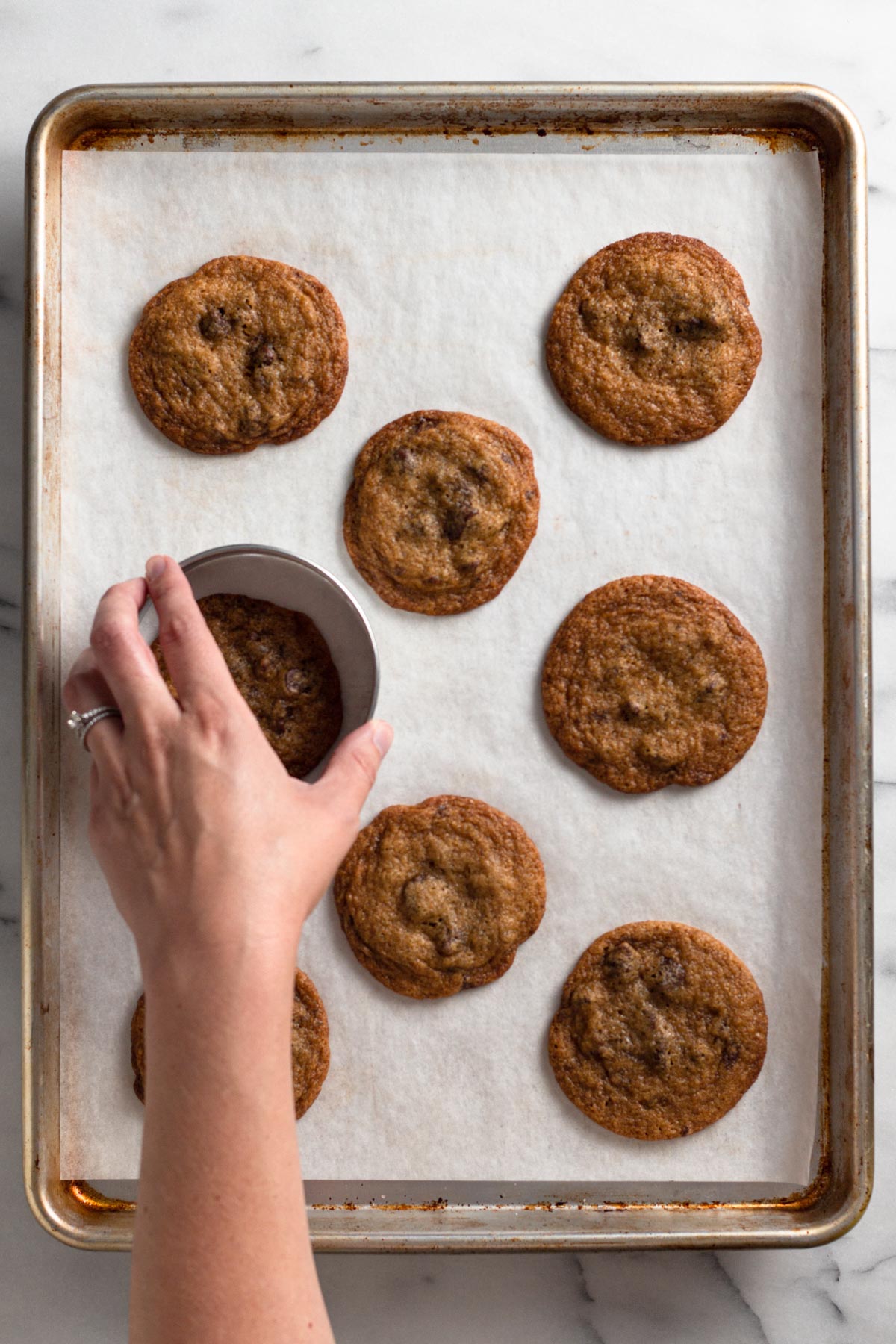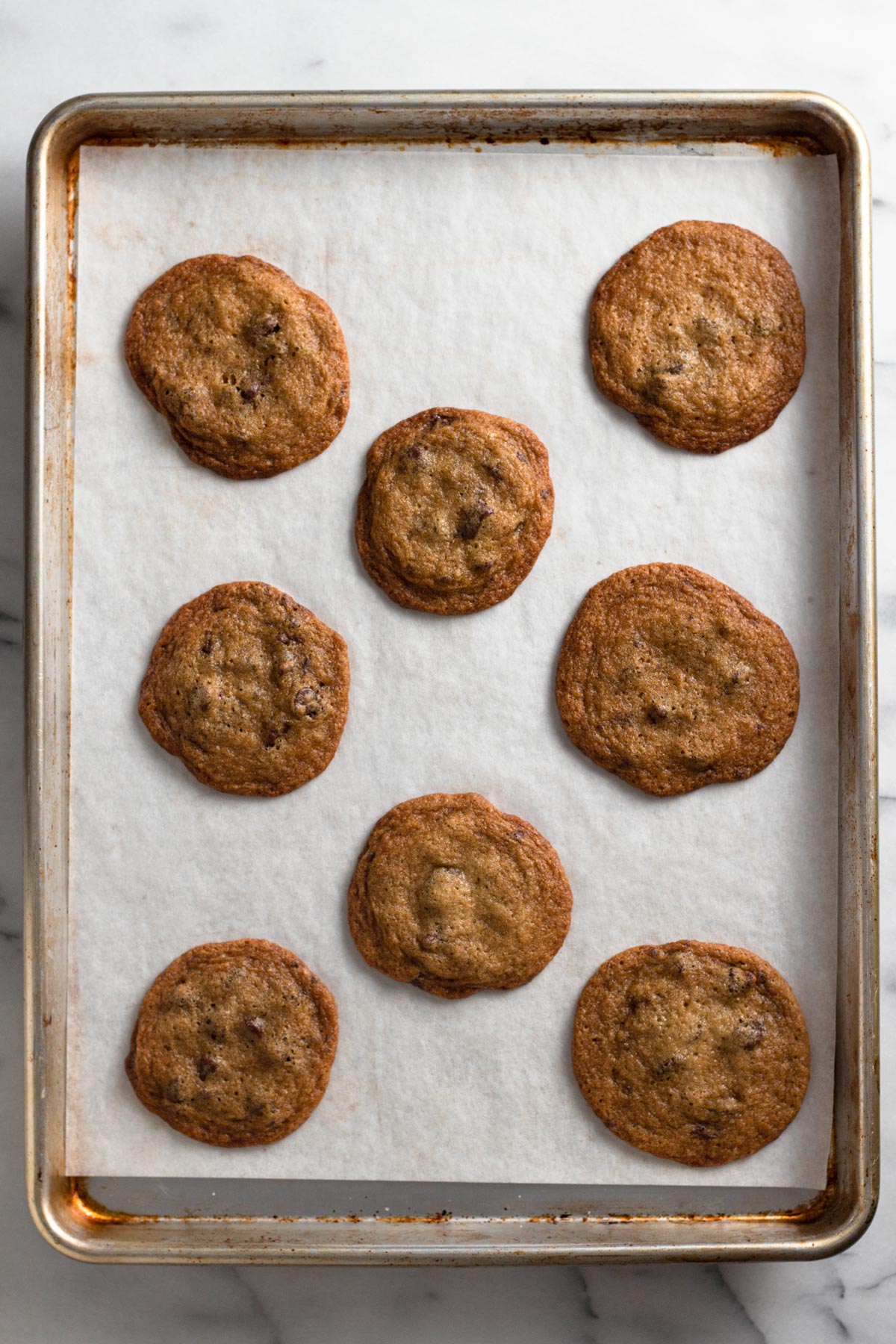 Tip #4: Add Extra Mix-Ins onto the Cookies
For chocolate chip cookies and other cookies that include mix-ins (like toffee, sprinkles, or raisins), reserve some of the mix-ins and press them onto the tops of the cookies immediately after baking and swirling them (see tip #3). This must be done quickly after removing the cookies from the oven, when they're still soft enough that the mix-ins can be pressed into the warm cookies, and will ensure that those beautiful mix-ins are front and center, rather than hidden within the dough. Be careful not to burn yourself, since the cookies and baking sheet will still be hot from the oven.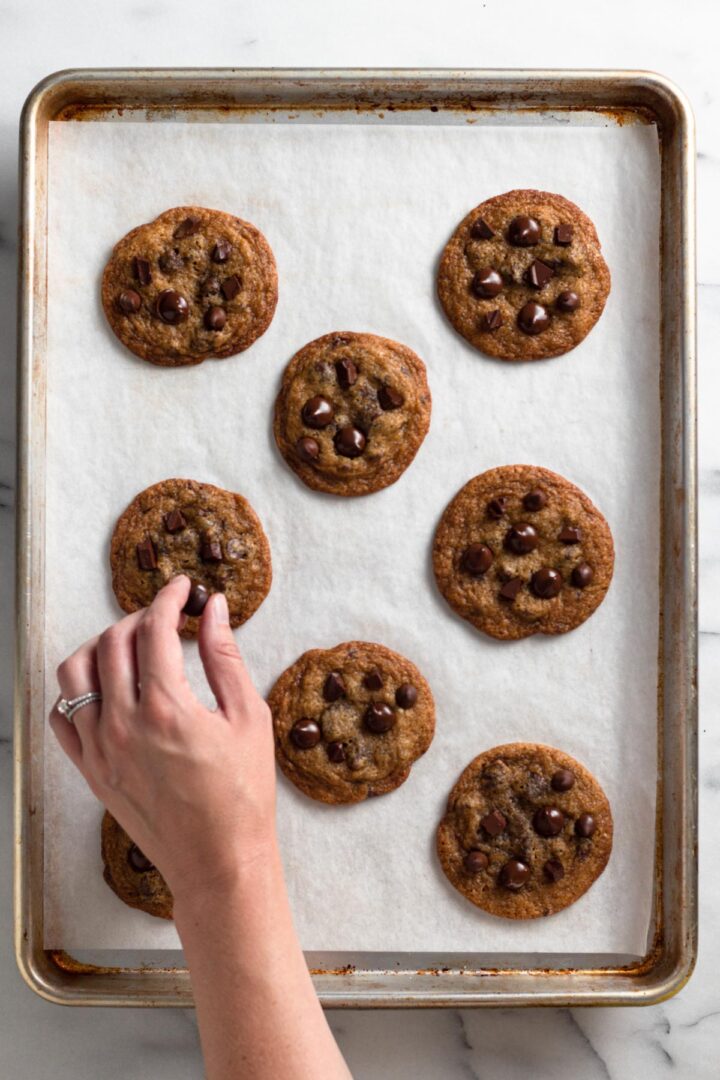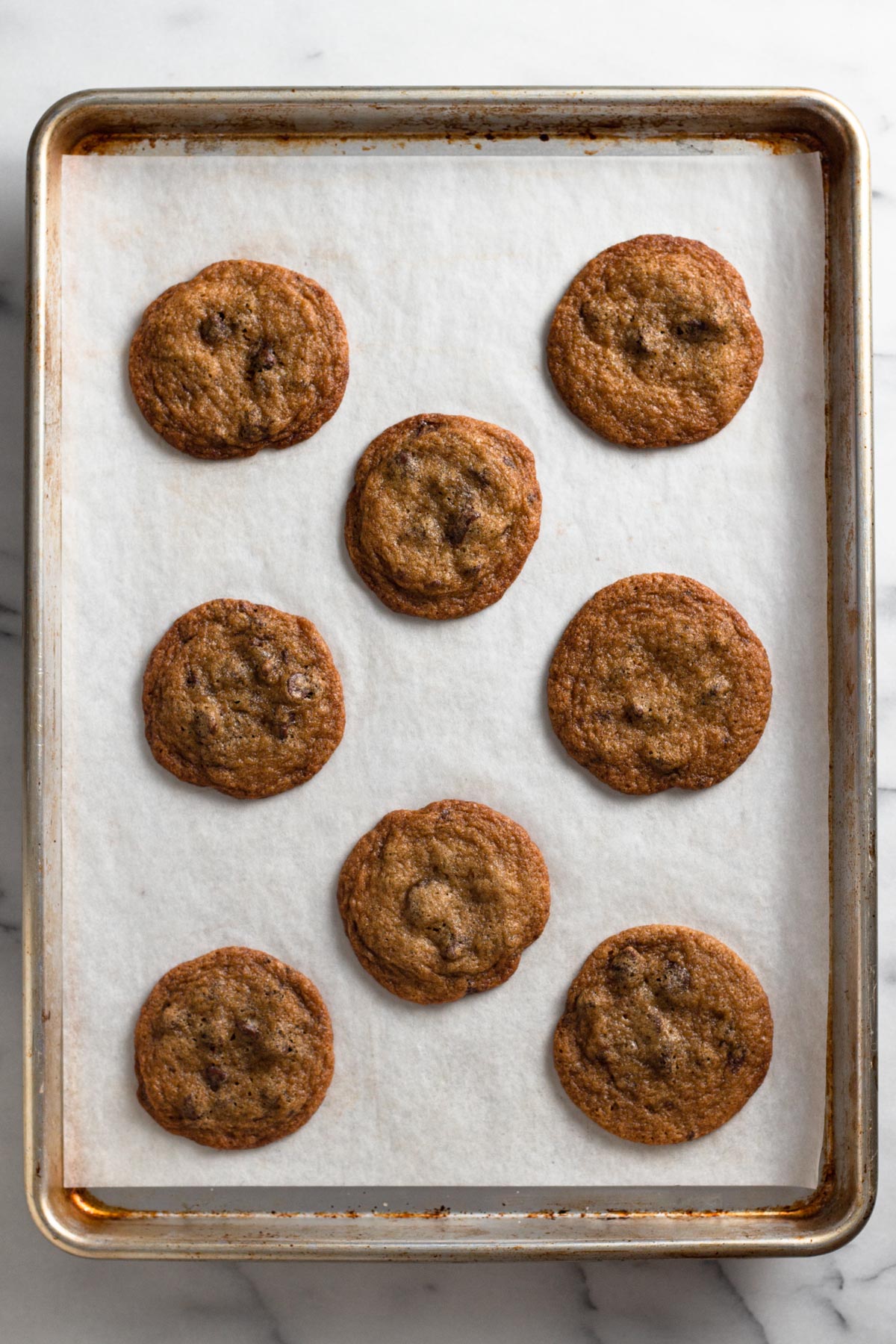 Love this baking tutorial? Please leave a star rating and check out these other great baking tips linked above! And don't forget to subscribe to Always Eat Dessert for even more baking tips and simple dessert recipes.
More Baking Tips
Love these tips for baking picture-perfect cookies? Check out these other cookie baking tips!