These are truly the best chewy chocolate chip cookies, with rich butterscotch flavor, tons of melty chocolate, a sprinkling of sea salt, slightly crispy edges, and soft, melt-in-your-mouth centers!
If you could eat just one food for the rest of your life, what would it be? I think my answer to that question would have to be chocolate chip cookies! There are so many desserts to love, but a world with no chocolate chip cookies is just not a world that I want to live in.
I grew up on Nestlé Toll House chocolate chip cookies. To me, they're the ultimate classic. So when I set out to create the perfect chocolate chip cookie, I started with Nestlé's recipe and adapted it to create a perfect, chewy chocolate chip cookie that's unparalleled.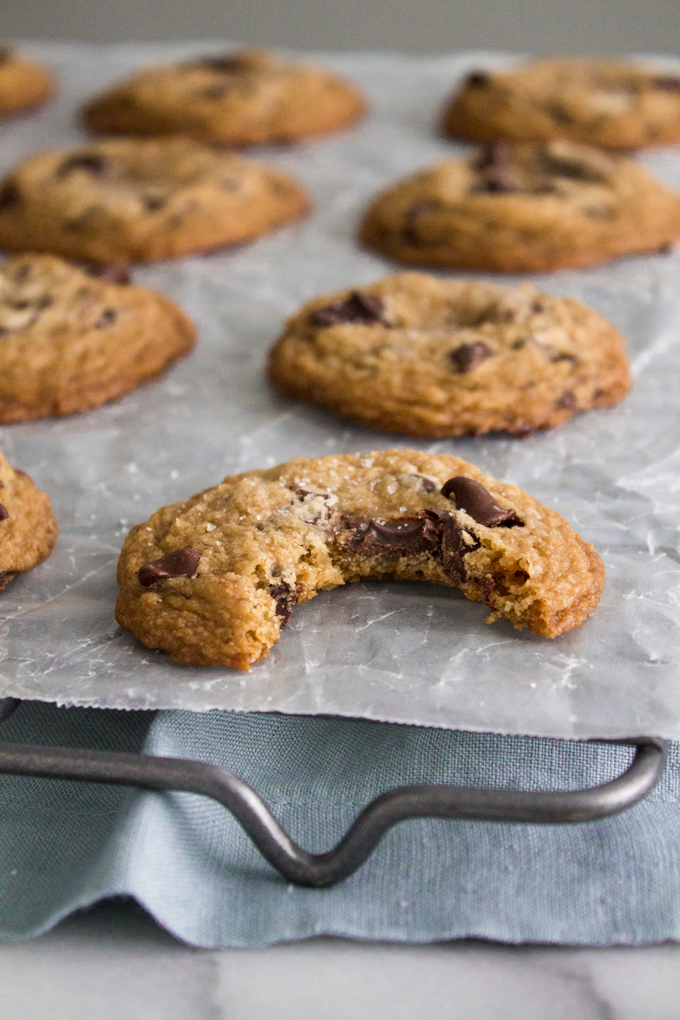 Here's all of the tweaks that I made to Nestlé's recipe to make these chocolate chip cookies so AH-MAZ-ING:
Instead of just one type of chocolate, I used two to give this recipe a blend of chocolatey flavors and textures. I recommend semisweet chocolate morsels and dark chocolate chunks. (Milk chocolate morsels are actually too sweet for these cookies, in my opinion.)
I kept the total amount of sugar the same, but increased the brown sugar and decreased the granulated sugar. Brown sugar gives the cookies a richer flavor and softer texture. Light brown sugar will work just fine, but I recommend using dark brown sugar for extra flavor.
I doubled the amount of vanilla extract, because I love the richness it adds to the cookie dough.
I added cornstarch to help with making those perfectly soft centers. (Don't worry; cornstarch helps to achieve the perfect cookie texture without impacting the cookies' flavor.)
Sprinkling the cookies with sea salt before baking helps to enhance the chocolate flavor (and who doesn't love a sweet and slightly salty treat?).
I made the cookies 50% bigger. Because when it comes to chocolate chip cookies, bigger is better.
I chilled the cookie dough before baking the cookies. Yes, I know this step is annoying because it means you have to wait a bit longer before your cookies are ready to eat. But trust me when I say that chilling the cookie dough makes all the difference in the world because 1) it gives the cookie dough ingredients some time to meld, creating a richer butterscotch flavor, and 2) it chills the fat (the butter) in the dough, so that your cookies will puff up as they bake instead of spreading into thin cookies. It's the key to soft, thick cookies!
These chewy chocolate chip cookies are truly my favorite of all time! They have a delicious butterscotch flavor, thanks to a perfect balance of brown sugar, butter, and vanilla. They're packed with not one but two types of chocolate for extra chocolatey-ness in every bite. And where do I even begin with the texture?! These chocolate chip cookies have slightly crisped edges and soft, melt-in-your-mouth centers that are simply to die for. In short, they are the ultimate chocolate chip cookies!
How to Make the Best Chewy Chocolate Chip Cookies from Scratch
In case you aren't already sold on this recipe, I should mention that these cookies are also easy to make! It takes just a few simple steps (and a stint in the fridge for the dough to chill), and you'll be on your way to a perfect batch of homemade cookies.
First, whisk together flour, cornstarch, baking soda, and salt in a bowl, then set these dry ingredients aside.
Using a stand mixer or a handheld electric mixer, cream butter and sugars (both brown and white sugar). Blend in vanilla extract and eggs.
Stir the flour mixture into the butter mixture before finally adding the chocolate chips and chocolate chunks.
Chill the dough, bake, and enjoy!
Reminder: Be sure to use room temperature butter for this recipe. Read why this is important here.
Tip: To make these cookies look especially pretty, check out my tips for baking picture-perfect cookies.
How to Make Cookies Chewy
If you love chewy cookies you're in the right place! Chewy cookies are the best cookies, in my opinion, and this recipe uses a few tricks to ensure that these chocolate chip cookies are deliciously chewy.
Brown Sugar - Brown sugar contains more moisture than white granulated sugar, and more moisture means a chewier cookie. Increasing the ratio of brown to white sugar makes these cookies more chewy.
Cornstarch - It may sound strange, but adding a bit of cornstarch to the cookie dough helps to make the cookies chewy. And since it doesn't alter the cookies flavor, this "secret ingredient" works like magic!
Chill the Cookie Dough - Chilling the cookie dough chills the fat (in this case, butter) so that the cookies won't spread too much in the oven when they bake. Cookies that bake up thick rather than spreading thin are likely to be chewier.
These cookies are completely addicting, so don't say you weren't warned!
Love these chewy chocolate chip cookies? Leave a review and be sure to check out these other chocolatey cookies and bars!
Print
Chocolate Chip Cookies
---
Author:

Allison Ferraro

Total Time:

3 hours (includes 90 minutes for chilling the cookie dough before baking)

Yield:

3

dozen cookies

1

x
Description
These are truly the best chewy chocolate chip cookies, with rich butterscotch flavor, tons of melty chocolate, a sprinkling of sea salt, slightly crispy edges, and soft, melt-in-your-mouth centers!
---
2 ¼ cups

all-purpose flour

2 tsp

. cornstarch

1 tsp

. baking soda

1 tsp

. fine sea salt (plus more for sprinkling on cookies)

1 cup

unsalted butter, room temperature

1 cup

dark brown sugar

½ cup

granulated sugar

2 tsp

. vanilla extract

2

large eggs

1 cup

semisweet chocolate chips

1 cup

dark chocolate chunks
---
Instructions
In a small bowl, combine flour, cornstarch, baking soda, and salt. Set aside.
In the bowl of a stand mixer (or in a large bowl using a handheld electric mixer), beat butter on high speed until creamy, about 1 minute. Add brown sugar, granulated sugar, and vanilla extract and beat until combined and fluffy, about 2 minutes. Scrape the bowl with a spatula as needed.
Add eggs, one at a time, and beat on high speed until blended.
With the mixer running on low speed, slowly add the flour mixture and mix just until combined.
Finally add the chocolate chips and chocolate chunks and stir on low speed just until the chocolate is distributed throughout the dough.
Cover the bowl with plastic wrap and place in the fridge to chill for 30 minutes.
Once chilled, scoop the dough into 1.5 T balls. For extra beautiful cookies, press a few extra chocolate morsels and/or chunks into each cookie dough ball. Place the balls close together on a baking sheet, and refrigerate for 1 hour to again chill the dough.
Preheat the oven to 350°F. When the balls of dough have chilled, place them 3 inches apart on a baking sheet lined with parchment paper or a silicone baking mat. Sprinkle each cookie dough ball with fine sea salt.
Bake cookies for 10-12 minutes, or until edges are dark golden brown and centers are light golden brown and puffy. Let the cookies cool on the baking sheet for 5 minutes before using a spatula to transfer the cookies to a wire rack to cool completely.
Notes
Storage: Cookies will keep for several days in an airtight container at room temperature. These cookies (both baked and raw dough) are also perfect for freezing. Read my post all about freezing cookie dough and baked cookies here.
Prep Time:

30 minutes

Cook Time:

10-12 minutes per tray

Category:

Dessert

Cuisine:

American
Keywords: chocolate chip cookies, best, chewy, salted