We all know the best part of baking cookies is eating the raw dough! This egg-free cookie dough recipe is perfect for eating straight from the bowl, no oven required!
In case you missed the excitement over on Instagram, Alex and I are having a BABY!! We're expecting our first little one this September, and we could not be more excited!
My pregnancy has been pretty easy so far (I'm really hoping I didn't just jinx myself!), but I am definitely missing some of my favorite treats. No more cocktails. No more eggs Benedict at brunch. And no more snacking on raw cookie dough when baking a batch of cookies.
I can go 9 months without sushi. Heck, I can even go 9 months without a gin & tonic. But I cannot go 9 months without cookie dough.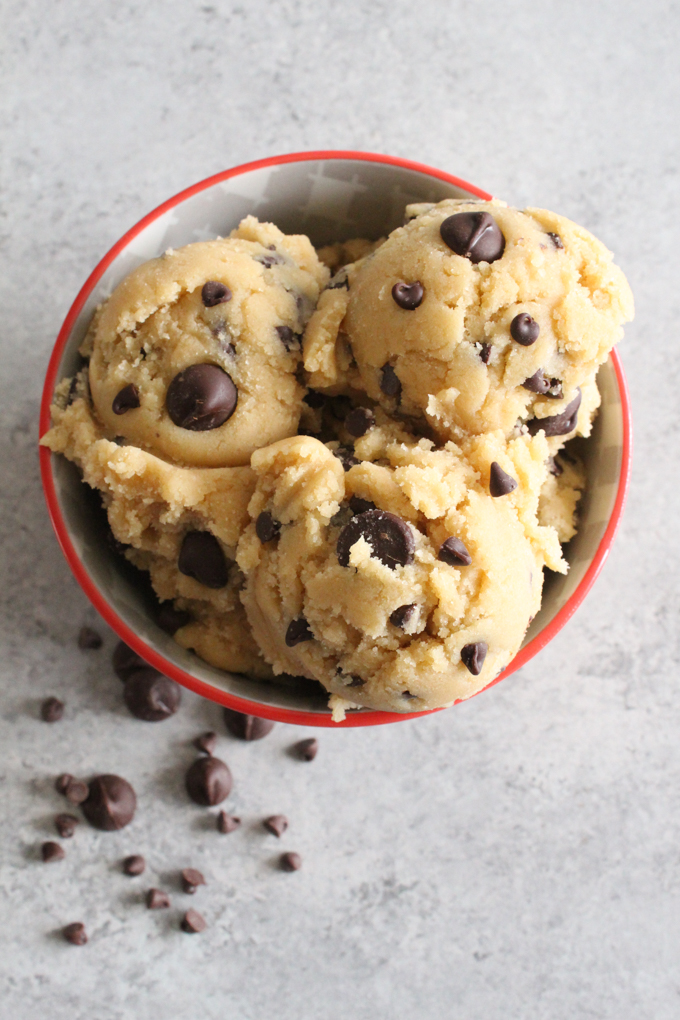 So I've created an egg-free cookie dough recipe that I can enjoy when those raw cookie dough cravings hit! Since my doctor recommended that I avoid eating uncooked eggs while pregnant, I can enjoy this egg-free cookie dough (mostly!) guilt free. Whether you're pregnant or simply prefer not to eat raw eggs, this is the ultimate cookie dough indulgence!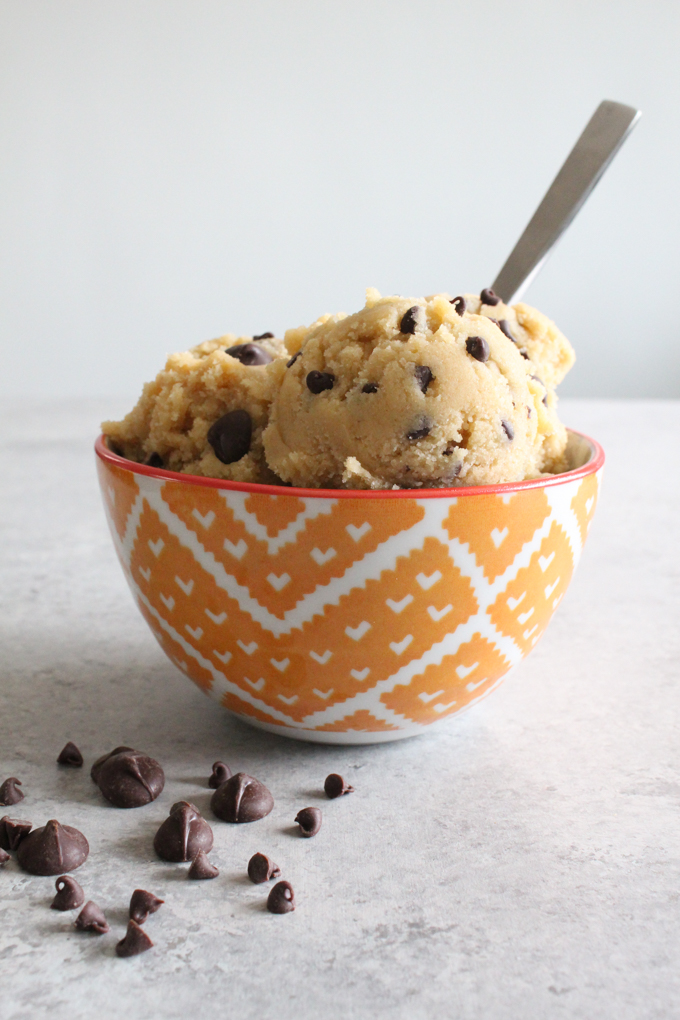 Let's talk about how it works:
Instead of eggs, we'll use milk to add moisture to the mixture and to help form the dough. (You can substitute dairy-free milk here, if you prefer.)
Since we're not baking the dough, we don't need to add any baking soda or baking powder to help the cookies rise.
Except for the two changes noted above, we'll follow the same process for this egg-free cookie dough that we would to make "normal" cookie dough.
If you prefer not to eat raw flour either, I've included a note at the end of the recipe explaining how you can pre-cook your flour before you make your dough.
The end result is a soft and creamy cookie dough packed with buttery, sugary flavor and stuffed with chocolate chips. Heaven!
Edible Chocolate Chip Cookie Dough (Egg-Free)
Servings=makes 3-½ cups
INGREDIENTS:
1 cup unsalted butter, room temperature
¾ cup granulated sugar
¾ cup light brown sugar
1 tsp. vanilla extract
½ tsp. salt
2 ¼ cups flour*
2 Tbsp. milk (dairy-free alternatives can be used)
¼ cup mini semisweet chocolate chips
¼ cup dark chocolate chips
Optional for serving:
Sugar cones
Melted chocolate
Sprinkles
DIRECTIONS:
In the bowl of a stand mixer (or using a large bowl and hand mixer), beat butter on high speed until light and fluffy. Add sugars and beat well. Add vanilla and beat until combined. Sprinkle salt over mixture and beat until combined.
Add about ⅓ of the flour and mix on medium-low speed until mostly combined. Repeat with the remaining flour until all of the flour is combined into the butter mixture to form a dough. The dough will be dry and crumbly. Drizzle the milk over the dough and mix on medium-low speed until combined and a smooth dough forms. Add the chocolate chips and mix on low speed until blended.
Enjoy the cookie dough directly from the mixing bowl or serve in small bowls with spoons. Or, if you're feeling fancy, serve the cookie dough in sugar cones dipped in melted chocolate and sprinkles.
Store any leftover cookie dough in an airtight container in the fridge. For the best taste and texture, I recommend letting the chilled dough come back to room temperature before eating.
*Note: If you're not comfortable eating raw flour, follow the steps below before mixing the flour into the cookie dough:
Preheat oven to 325°F
Measure the flour and spread it out onto a baking sheet
Bake the flour for 10 minutes in the oven
Let the flour cool completely at room temperature before using in recipe